Extend your Datadog functionality with Datadog Apps
Last year, we launched the Datadog Marketplace, which lets Datadog partners develop and trade applications that provide custom monitoring solutions for specific use cases. Now, we're pleased to announce Datadog Apps, which introduces even further customizability to the Datadog platform. With Datadog Apps, you can now build and share your own Datadog UI features that seamlessly combine functionality from your third-party tools with the full range of Datadog's monitoring capabilities. This enables you, for example, to embed key application management tooling in-line with your dashboard widgets so you can easily make decisions based on your Datadog insights.
In this post, we'll look at how Datadog Apps unify your monitoring and management workflows to help you create powerful solutions tailored to your needs.
In order to respond to issues in your environment, it's often necessary to toggle between your monitoring workflows and third-party services. For instance, if Datadog notifies you of high memory usage in your Kubernetes environment, you might need to switch to a terminal to scale up a deployment on your cluster. Or, maybe you're concerned with how your resource usage affects costs and you need to navigate back and forth from a cloud cost management tool. With Datadog Apps, you can embed that external data and functionality directly into your Datadog dashboards via out-of-the-box components such as widgets, modals, side panels, and more. This enables you to further centralize your key workflows so that you can quickly access your monitoring data in Datadog and use those insights to perform necessary actions, all directly from the same platform.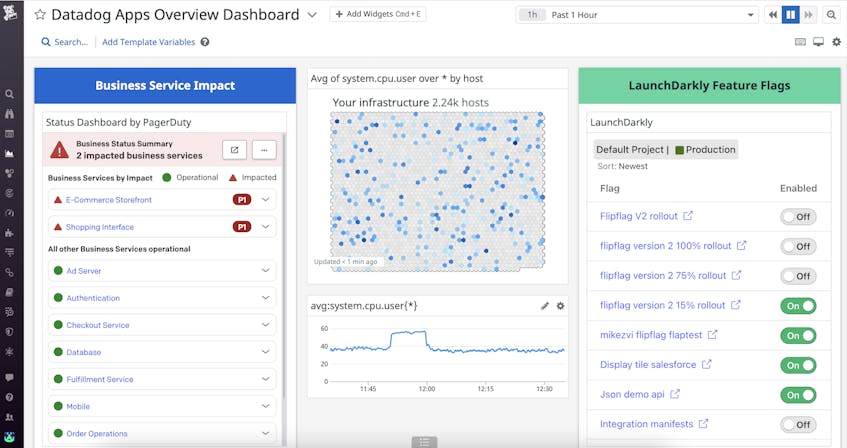 You can add Datadog App widgets to any dashboard with our responsive widget tray side panel. This organizes widgets into easy-to-browse categories and provides a keyword search which enables you to find widgets quickly.
We're excited to be releasing the first round of Datadog Apps developed by our launch partners, Embrace, Fairwinds, Harness, Rookout, Shoreline, LaunchDarkly, and PagerDuty. Next, we'll look at a couple of examples of apps currently available from PagerDuty and LaunchDarkly.
PagerDuty's Datadog App optimizes your incident management workflows. The App includes a custom widget that lists each of your monitored business services and, if they have active incidents associated with them, orders them by severity so you can quickly see which impacted services require your immediate attention.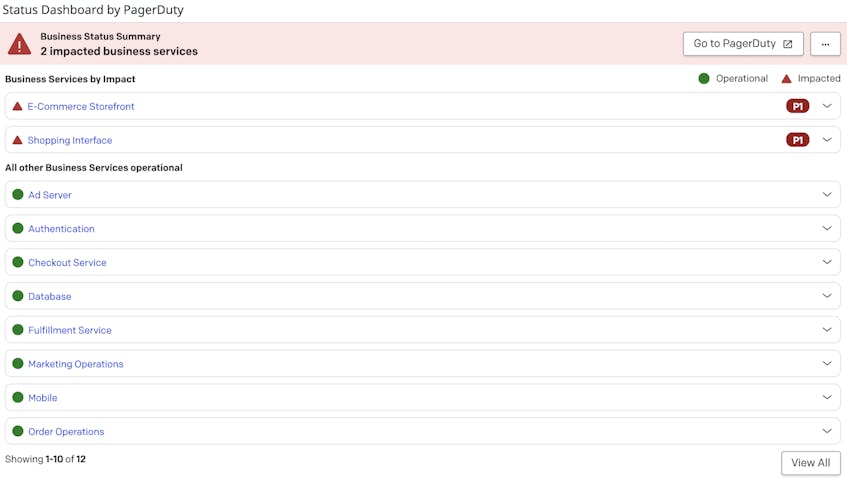 PagerDuty offers a second custom widget that lets you view all of your active incidents alongside the affected service, duration of the incident, and more. In addition to viewing all of your PagerDuty incidents from a Datadog dashboard, this enables you to acknowledge or resolve incidents directly from Datadog.
LaunchDarkly's Datadog App adds their core feature flag management functionality directly to the Datadog UI. The app expands upon our initial LaunchDarkly integration by providing a dashboard widget that you can use to toggle individual feature flags across all of your LaunchDarkly projects and environments. This means you can test and monitor the impact of feature flags on your services and infrastructure, without ever leaving Datadog.
Let's say you are deploying a new feature to your mobile app but are unsure how it will affect memory or CPU on backend services when load from a subset of your users is introduced. You can now embed the LaunchDarkly widget within a new or existing dashboard that displays key memory or CPU metrics to determine the real-time impact of your new feature. If the introduction of your new feature triggers an unexpected spike in resource utilization, you can quickly toggle the feature flag off from within Datadog before taking further remediation steps to address the issue.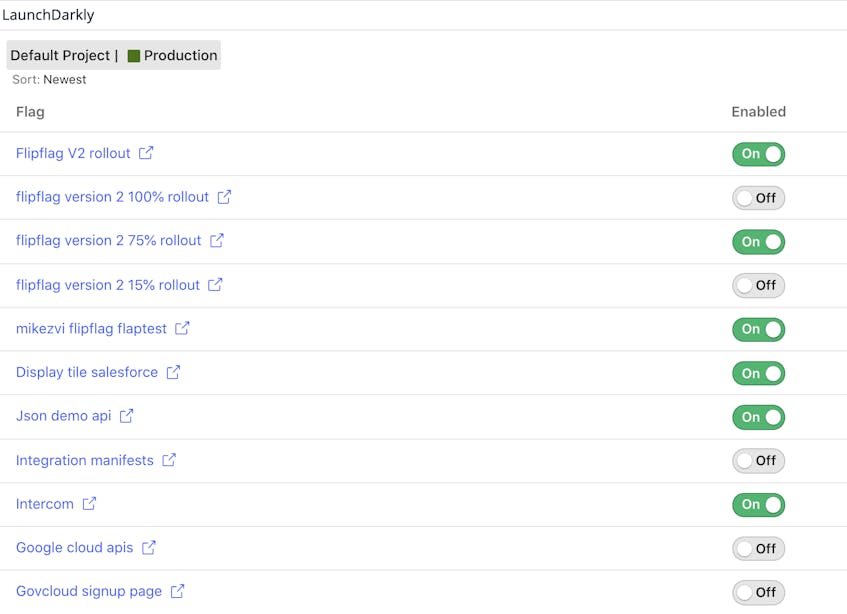 Datadog Apps provide a powerful way to unify your key workflows and more easily use the insights you get from Datadog to make decisions. To learn more about how to start creating Datadog Apps, check out our documentation here. Datadog Apps developed by PagerDuty, LaunchDarkly, and other partners are currently available to all of our customers. To publish your own app, you can join our Partner Network, and request Beta access here.
If you aren't already using Datadog, sign up for a 14-day free trial.