All your functions in one place
Aggregate critical serverless metrics in one place for a birds-eye view.
Optimize serverless function performance by filtering to functions that are generating errors, high latency, or cold starts
Leverage tags to group functions by cloud region, allocated memory, environment, and more
Identify high-level function issues, then pivot to invocation traces and logs with one click
Trace across any infrastructure
Detect and resolve incidents spanning all of your service architecture, whether serverless functions, containers, or VMs.
Trace microservice calls across your stack to get end-to-end visibility into customer requests
Automatically map out upstream and downstream dependencies like API Gateway, Amazon SNS, or DynamoDB
Get greater service customization via integrations like, Serverless Framework, Terraform and SAM
End-to-end monitoring for serverless functions
Simplify serverless function incident diagnosis.
Isolate an individual customer request and drill down to the associated logs and metrics for the full story
Alert your on-call teams with machine learning-based anomaly, outlier, and forecasting monitors
Search and filter using tags like service, customer, or error code to troubleshoot ephemeral functions
Track business metrics with no additional overhead
Collect custom business metrics from serverless functions without adding any resource overhead to invocations.
Reduce silos with a single source of truth for dev, ops, and business teams
Collect metrics directly from your functions to track data like a count of items in a cart, or value of item in a cart
Visualize and analyze key business data through customizable dashboards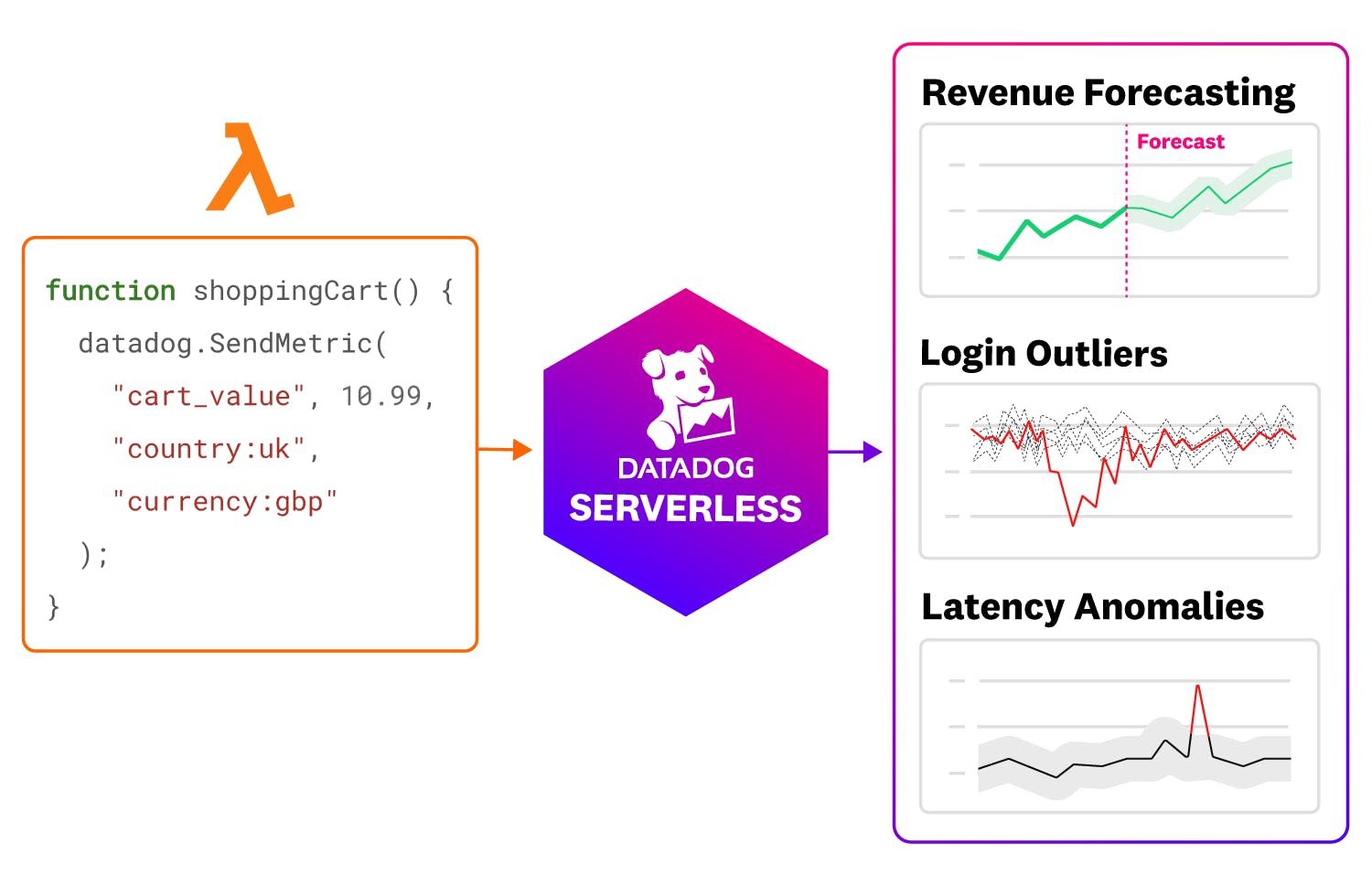 Monitor and analyze critical serverless metrics
Address underprovisioned or misconfigured serverless functions for performance and cost benefits.
Alert on memory, timeout, and allocated concurrency metrics to avoid poor end user experiences
Correlate metrics with cold starts to identify patterns of customer-facing latency
Identify which functions are producing errors and what types of errors are plaguing individual Lambda functions
Resources

GlobalGiving
How Datadog provided GlobalGiving visibility into requests across VMs and serverless functions