Streamline communication workflows with the Datadog Slack App
Sharing information about the health and performance of an application is a critical part of any team's daily workflow. That's why we're excited to announce the Datadog Slack App, which simplifies crucial communication tasks by deepening the integration between Datadog and Slack. This enhanced integration comes equipped with built-in Slack commands that extend Datadog's robust incident management capabilities to the Slack platform, as well as a new "step" for the Slack Workflow Builder that enables teams to automate routine data sharing processes.
Datadog notifications that are automatically sent to Slack channels make it easy for teams to keep track of system-wide activity that occurs throughout the day. For example, on-call engineers need to be immediately notified when service degradation occurs, especially if customers are impacted. And if the service does not resolve on its own, it may be necessary to create an incident.
With the new Datadog Slack App, users can declare an incident by running the /datadog incident command, which opens an incident creation modal directly inside Slack.
Creating a new incident will automatically generate a dedicated Slack channel, where team members can immediately start troubleshooting and stakeholders can monitor progress. The incident will also appear in Datadog's Incident Management UI, where you can view it in context.
Datadog already allows users to copy and paste widgets from dashboards into Slack channels, but with the Datadog Slack App, you can easily pull the graphs you need into Slack using the /datadog dashboard command. This command opens a modal that lets users search for the relevant dashboard, filter to pre-defined contexts from saved views, and select the appropriate widget. Additionally, a helpful preview provides a final sanity check before you send the graph to the channel.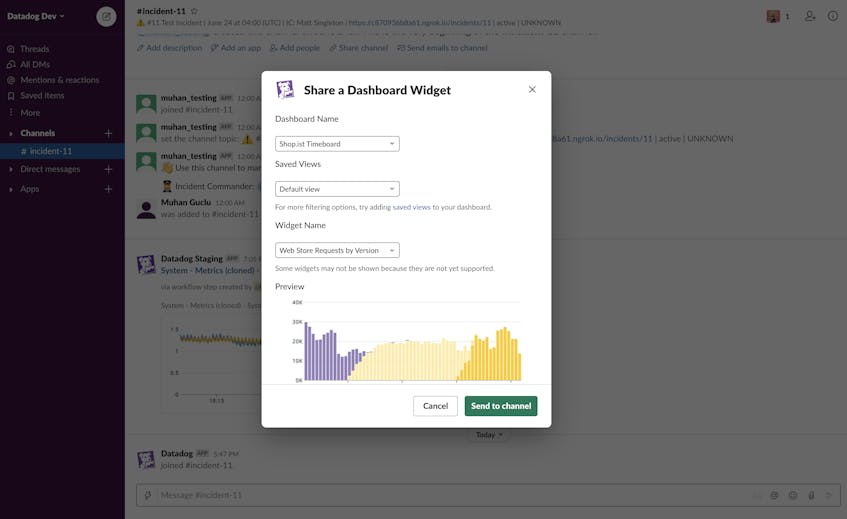 You can also send messages from your incident Slack channel to the incident timeline in Datadog. Simply hover over any message in the incident channel, click "More actions," and select the "Add to Incident" option. This way, when it's time to write the postmortem, your team members will have all the details about how the incident was resolved.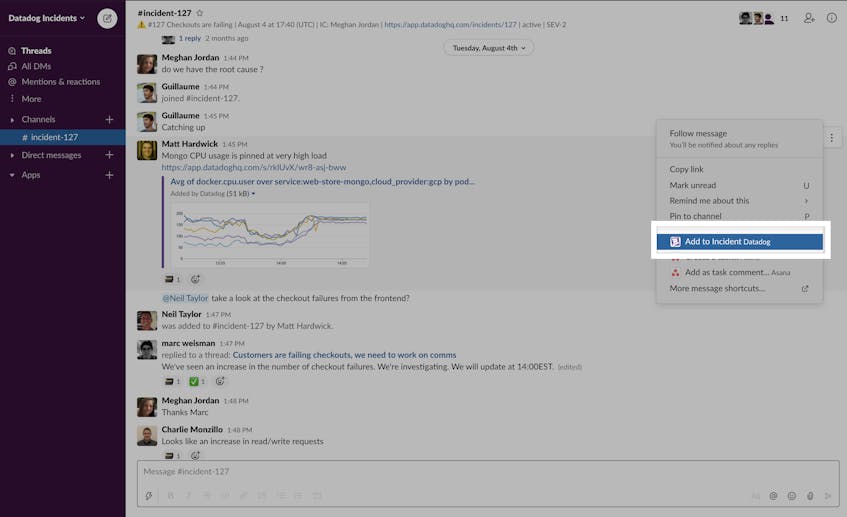 You can also update the incident's state and severity with the /datadog incident update command.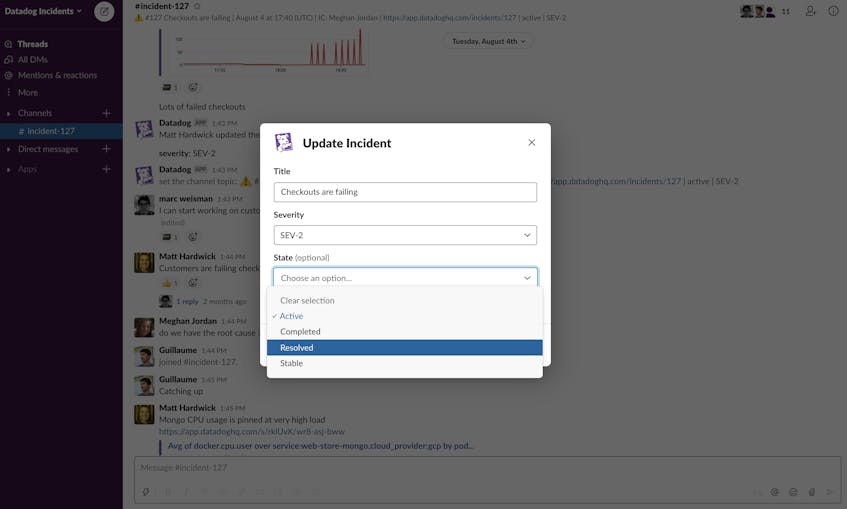 Slack's Workflow Builder is a visual, no-code tool that allows any Slack user to build custom workflows that automate routine processes. You can prepare for an incident by creating a new Slack Workflow and then adding the Datadog Step for sharing specific dashboard widgets. When an incident occurs, you can use a shortcut to trigger this workflow to send the pre-selected graph, which will expedite your team's response.
The Datadog Step can also be used to facilitate routine information sharing that is unrelated to a particular incident. For example, you can use the Datadog Step inside a Slack Workflow to build a weekly report on how your services performed over the last week, and then schedule it to trigger every Monday morning. When you and your team start your week, the information you need will have already been gathered and sent to the team channel, so you can spend less time performing manual tasks and more time focusing on your SLOs and SLAs.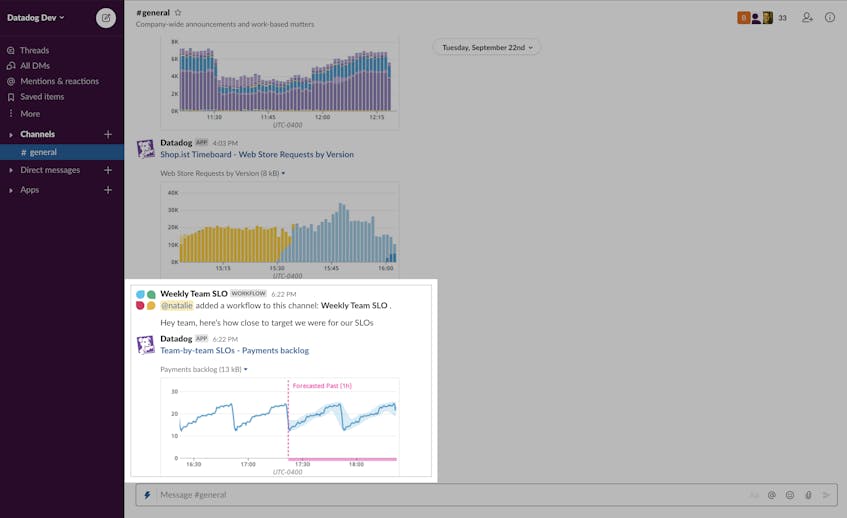 The Datadog Slack App is now available in the Slack App Directory, and it can also be installed through the Slack Integration tile in Datadog. For more information on how to get up and running, check out the documentation. And if you're not yet a Datadog customer, sign up for a 14-day free trial.