Monitor feature releases with Statsig's offering in the Datadog Marketplace
Statsig is a modern experimentation platform that provides crucial insight into how new features are received by your users, so you can make informed product decisions and deploy with confidence. Statsig automatically runs A/B tests on features as they're rolled out, and measures their impact on key business metrics, such as user growth and engagement. This gives both your technical and business teams the context they need to decide whether to ship, abandon, or iterate on a feature—without any lengthy debates or guesswork.
We're excited to announce that Statsig is now available in the Datadog Marketplace. Once you're up and running, you can enable the Statsig integration, which allows you to monitor events related to your feature experiments alongside your application's telemetry data in Datadog. This helps you ensure that the progress you make on business objectives does not come at the expense of reliability or performance.
Statsig ships with a number of out-of-the-box tools for conducting experiments that can help you assess which features resonate with your end users. Feature Gates (also known as feature flags) are a central pillar of the Statsig platform, as they allow you to control which of your users get access to new features as you roll them out. You can use Feature Gates to easily toggle a feature on or off for all of your users, or define rules and conditions to only show a feature to a certain subset of your users at a time. For example, you can target users who are part of your beta test cohort or who access your application from a particular country.
Statsig also automatically runs A/B tests for each Feature Gate you create—and shows you how your feature impacts your core business by ingesting, aggregating, and analyzing events that occur in your application (e.g., when a user adds an item to their cart or checks out). This requires no additional instrumentation on the user's part. In the example below, you can see that adding relevance-based sorting to the product catalog yields largely positive effects, such as increased add-to-cart and checkout events and decreased p50 latency.
When it comes to making product decisions, understanding how new features impact your business is only one part of the equation. It's equally important to know how they affect your systems, so you can catch and resolve any unexpected issues before you launch. Once enabled, the Statsig integration automatically sends configuration change events, such as when a Feature Gate is created or updated, to Datadog. You can visualize these events—and correlate them with telemetry data from across your stack— by adding the event stream widget to any dashboard and filtering it by sources:statsig. This way, if your system begins to behave anomalously or shows signs of overloading, you can immediately identify the exact configuration change that caused the issue.
In the screenshot below, you can see that our release of the instant_search feature corresponded with a significant spike in CPU utilization. Because we're able to quickly detect issues like this, we can roll back the change and make adjustments before a wider set of users is affected.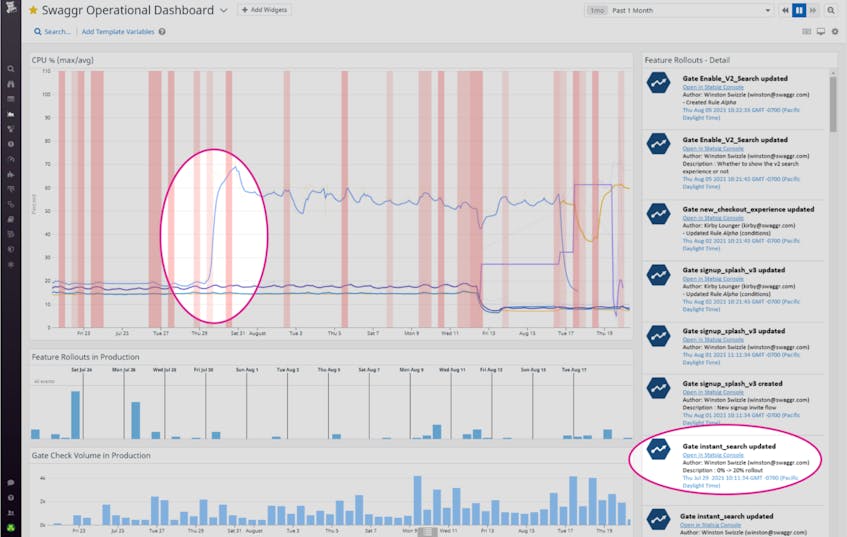 Statsig is now available in the Datadog Marketplace. Not sure if Statsig is right for you? Take it for a test drive to experience the benefits of automated A/B testing and analytics. The dev tier is free for up to 5M events per month.
You can also enable the Statsig integration right away to monitor feature rollout events alongside your application's telemetry data in Datadog. If you're not yet a Datadog customer, you can learn more about the Datadog Marketplace in our blog post—and sign up for a 14-day free trial of Datadog today.
The ability to promote branded monitoring tools in the Datadog Marketplace is one of the benefits of membership in the Datadog Partner Network. If you're interested in developing an integration or application for the Datadog Marketplace, contact us at marketplace@datadog.com.