Expand your monitoring reach with the Datadog Marketplace
The Datadog Partner Network (DPN) is a rapidly growing registry of hundreds of leaders in the cloud service industry who choose Datadog to meet their infrastructure-monitoring needs. Partners are well-acquainted with more than 600 technology integrations available to Datadog customers, but with huge diversity in technical stacks used by our customers, there's always demand for more customization and flexibility. Our partners have worked to meet this need by building their own tools, such as custom integrations or expanded functionality, and are eager to share their work with the Datadog community.
Today, we're thrilled to announce the launch of the Datadog Marketplace, a digital marketplace where developers can trade their third-party applications with other Datadog users. Backed by strict vetting standards and a fully managed billing system, the Marketplace introduces new ways for Datadog partners to increase the scope of their monitoring practices and build new tools on the Datadog platform—all while expanding the awareness of their brand.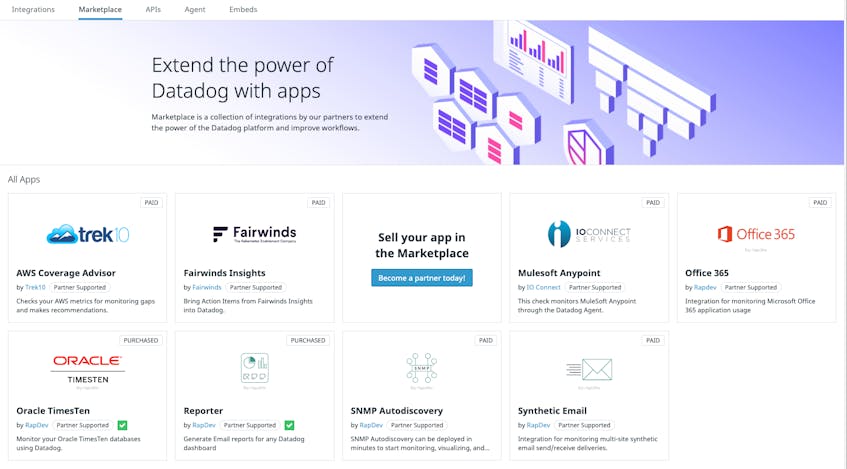 You can access the Marketplace page from the Marketplace tab in the Datadog app. Clicking on any available app provides detailed information, including a product description, pricing, installation instructions, data collection specifications, and customer support contact details. Marketplace integrations follow the same simple installation workflow as standard Datadog integrations, and come with custom dashboards, metrics, and recommended monitors out-of-the-box, making it easy to monitor your new services and cloud tools from a single pane of glass within minutes.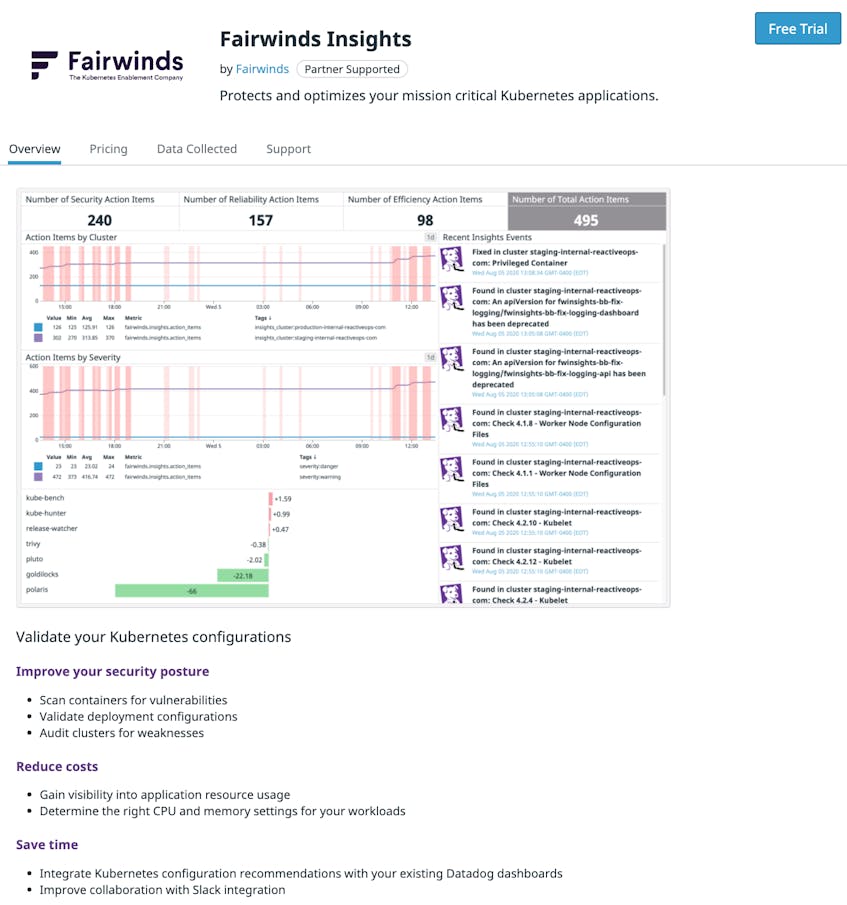 We're excited to have worked with our partners to make the following integrations available in the Marketplace at launch:
Paid Marketplace applications can be trialed for 14 days before charges are applied to your account. The Datadog Product and Engineering teams are reviewing new integration submissions from our partners every day, so be sure to routinely check the Marketplace for the latest offerings and most up-to-date pricing details and installation instructions.
Beyond the ability to publish applications on the Marketplace, membership in DPN comes with a number of benefits, including access to dedicated sales and marketing resources, as well as premium Datadog product training materials. With membership tracks for managed service providers, consultants and system integrators, technology partners, and more, the network has something for partners in just about every sector of the cloud computing space. To begin your application, visit the application portal.
The Marketplace turns Datadog into a development platform and opens up new possibilities for extending your monitoring reach. You can start browsing the Marketplace and demoing partner applications now, And if you aren't already using Datadog, get started with a 14-day free trial.