Monitor Workday with AVM Consulting's integration in the Datadog Marketplace
Workday is a cloud-native solution for enterprise management. With its multitenant architecture, which supports a wide range of integrations and enables centralized administration of multiple Workday instances (i.e., tenants), Workday provides a unitary framework for managing human resources, financials, payroll, recruiting, analytics, and more. Along with Workday's cloud-based delivery model, this multifaceted support offers flexibility that can be critical at enterprise scale. But this flexibility can also make overseeing Workday complicated, particularly if you're working with a range of tenants and integrations.
We're pleased to announce that the Workday integration from AVM Consulting is now available in the Datadog Marketplace. This integration provides a unified and richly detailed view into your entire Workday system, ensuring in-depth observability at scale. It includes an out-of-the-box dashboard that centralizes telemetry data from all of your Workday tenants and integrations, as well as two monitors that track their vital signs and alert you to critical errors.
In this post, we'll cover how you can use the integration to monitor Workday tenant connectivity and integration health, as well as troubleshoot errors using job metrics and logs.
Once you've installed the integration from the Datadog Marketplace and configured it to collect performance data from your Workday tenants, its out-of-the-box dashboard will give you access to job metrics and logs. In addition to this data, AVM Consulting offers two recommended monitors for Workday. Once installed in your Datadog instance, these monitors will track the vital signs of your Workday tenants, detecting any changes in the availability of your applications and continually assessing the health of your integrations.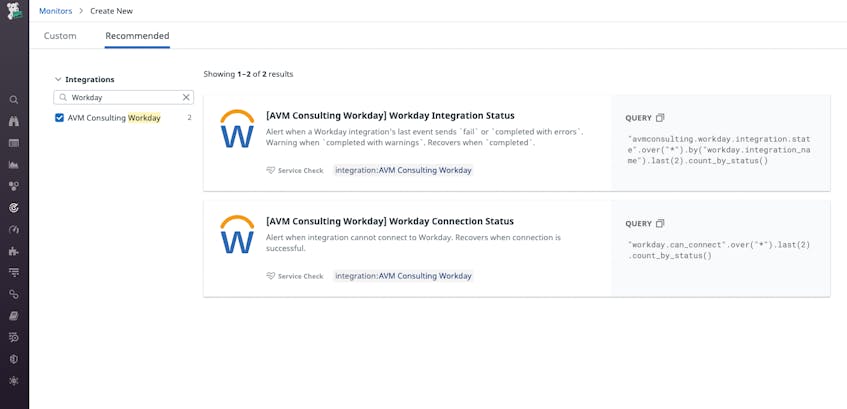 The Workday Connection Status monitor tracks the connectivity of your Workday tenants, and will alert you if and when your tenants lose—or regain—connection, keeping you apprised of the overall accessibility of your Workday applications. The Workday Integration Status monitor checks the most recent event state of each of your integrations and alerts you to failures, errors, and warnings.
These alerts can be critical for ensuring a timely response to faulty or lost Workday functionality. Additionally, the connectivity and integration health data from these monitors is displayed in the out-of-the-box Integrations Trends dashboard, furnishing a high-level picture of the status of your Workday tenants. Job metrics and logs fill out this picture in thorough detail. This range of visibility makes the integration beneficial both to business-oriented users, who can use it to keep tabs on the general availability and functionality of their Workday systems, and to Workday administrators and developers, who can instrumentalize its telemetry data to make quick work of troubleshooting.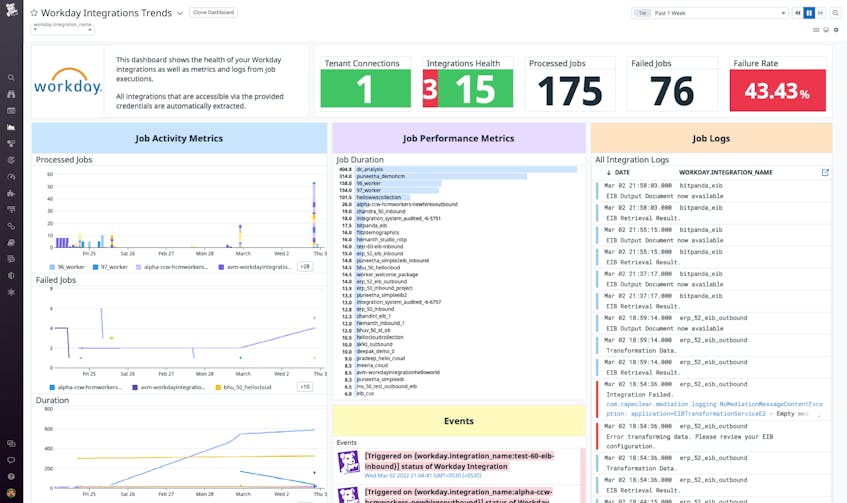 Troubleshooting issues in your Workday tenants at scale can be a complex process, particularly if you're working with a range of integrations. This integration uses job metrics and log collection in tandem to simplify that process and provide continuous visibility into every component of your Workday system.
Job activity and performance metrics give you a high-level picture of the operation of each of your integrations over time, charting all processed and failed jobs as well as their durations, making anomalies easy to spot. This level of detail can be indispensable. For example, you can use the integration dashboard to zero in on failed or prolonged jobs and drill down into their logs for granular insight into the causes. Broader investigations can be conducted by correlating this data with information from other parts of enterprise infrastructure monitored by Datadog, such as cloud service providers, which your Workday integrations may rely on. Without access to this data, the causes of errors in complex Workday tenants can be difficult and time-consuming to pin down.
AVM Consulting's integration for Workday gives you continuous visibility into your Workday tenants and applications at scale, all in a single pane of glass. Install the integration from the Datadog Marketplace and get started today to monitor the health and performance of your Workday tenants and integrations and simplify troubleshooting. If you're new to Datadog, you can learn more about the Datadog Marketplace through our blog — and sign up for a 14-day free trial of Datadog today.
If you're interested in offering your own branded monitoring tools in the Datadog Marketplace, you can do so by joining the Datadog Partner Network. Join here as a Technology Partner to offer Datadog customers your own integrations and applications.