Send Datadog alerts and events to ChatWork
Regardless of the size of your environment or team, collaboration and real-time communication are essential to investigating performance issues, working through bugs, and effectively deploying updates. To facilitate collaboration on these kinds of tasks, Datadog is pleased to announce our new integration with ChatWork.
When you're fixing a pressing production issue, nothing is more distracting than carrying on multiple side conversations to keep individual team members updated. The ChatWork integration provides a way to automatically get the entire team on the same page. Simply mention @chatwork-room_name from the Datadog Events Stream to keep everyone synced up with the latest events and performance metrics from across your environment.

If you want Datadog to send alerts directly to ChatWork, add the ChatWork chat room to the notification list of any alert. The members of the chat room will be notified whenever that alert triggers.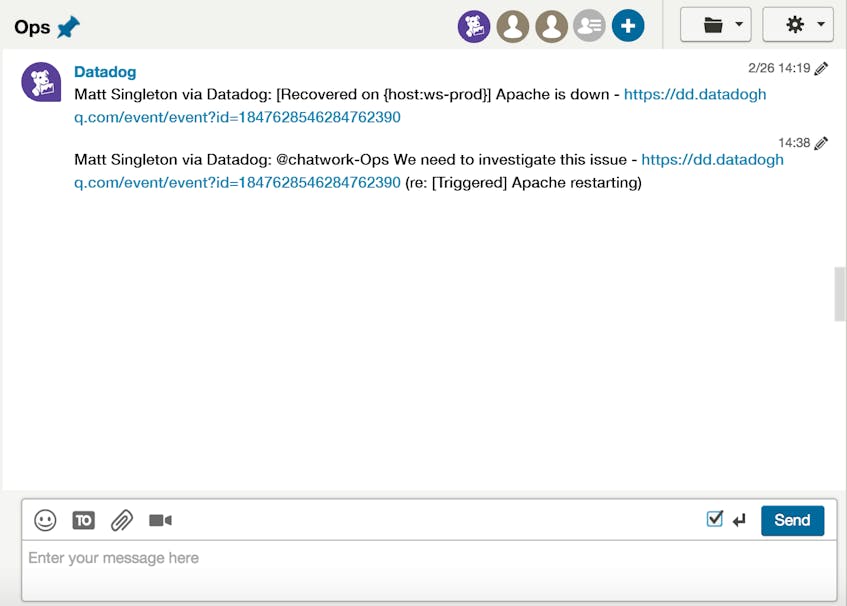 ChatWork offers a powerful search function. Conversations, links, and additional content received from Datadog are searchable in ChatWork, helping you keep track of issues and events that occurred in the past.
If you're a ChatWork user and would like to enable effortless sharing of alerts and performance metrics across your team, sign up for a 14 day free trial of Datadog. If you're a Datadog customer set up the ChatWork integration in minutes.