Monitor Cisco Meraki with Datadog
Cisco Meraki provides a range of IT infrastructure devices—like network security appliances, switches, and wireless access points. As your on-prem infrastructure grows and you add potentially thousands of Meraki devices to your network, it becomes a challenge to get visibility across your entire fleet of devices. Datadog's new Meraki integration collects event logs and Simple Network Management Protocol (SNMP) metrics from your Meraki network devices, so you can secure your corporate IT infrastructure and get a comprehensive look into its health and performance, even as it scales and grows in complexity.
SNMP is an internet protocol that provides administrators the ability to manage and monitor their network devices. Datadog's SNMP integration includes device autodiscovery, which scans a provided subnet and automatically ingests metrics—such as packet error count and data throughput—from any discovered network devices.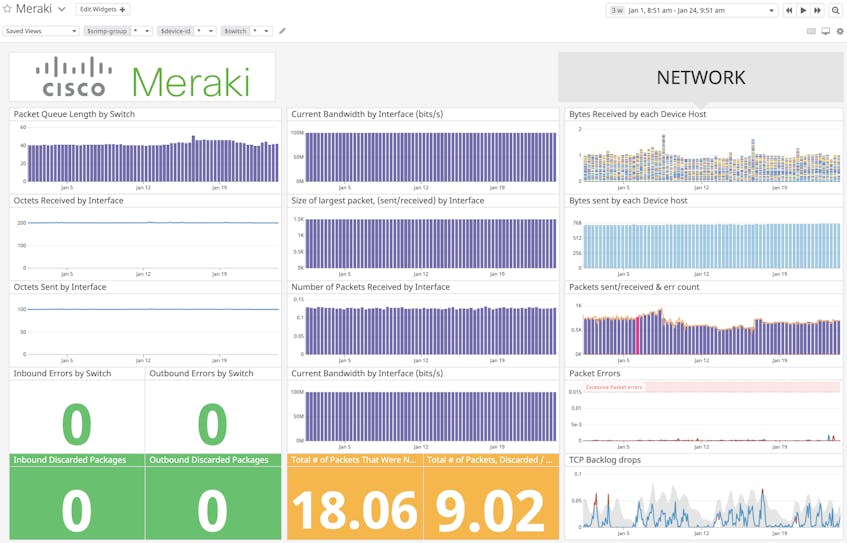 Datadog's Meraki integration collects information specific to Meraki network gear. Once enabled, in addition to the metrics available through our SNMP integration, like device up/down status, you'll have access to critical metrics particularly relevant to your Meraki devices. These metrics will let you know whether packets are successfully being sent and received across your Meraki devices, or even the status of each interface on that device.
In complex infrastructure, with huge volumes of metrics coming from many different sources, tags help organize your data and add flexibility to your monitoring. Datadog automatically tags incoming Meraki metrics with device names and product codes to add further context. Tags enable you to view subsets of your network devices (e.g., availability zone, office) and drill down to individual devices and switch ports so you'll know exactly where in your network a metric was generated.
Meraki event logs record events from network devices to give you insight into activity across your wireless environment. Events include things like authentications, changes in port status, and client connections. The type of information that event logs capture differs depending on device type, such as security appliances, access points, switches, and cameras. With our integration, you can forward Meraki events as logs from all of your devices to your Datadog account's log stream, enabling you to closely track the status, network performance, and connection volume of your network devices in real time.
You can include a log stream widget in your network monitoring dashboards to help ensure that your infrastructure remains secure. For example, if you are monitoring a Meraki access point, you can quickly detect an unexpectedly high percentage of client connection failures (e.g., over 50 percent) so you can start troubleshooting to determine if the cause is an unauthorized device attempting to access the network.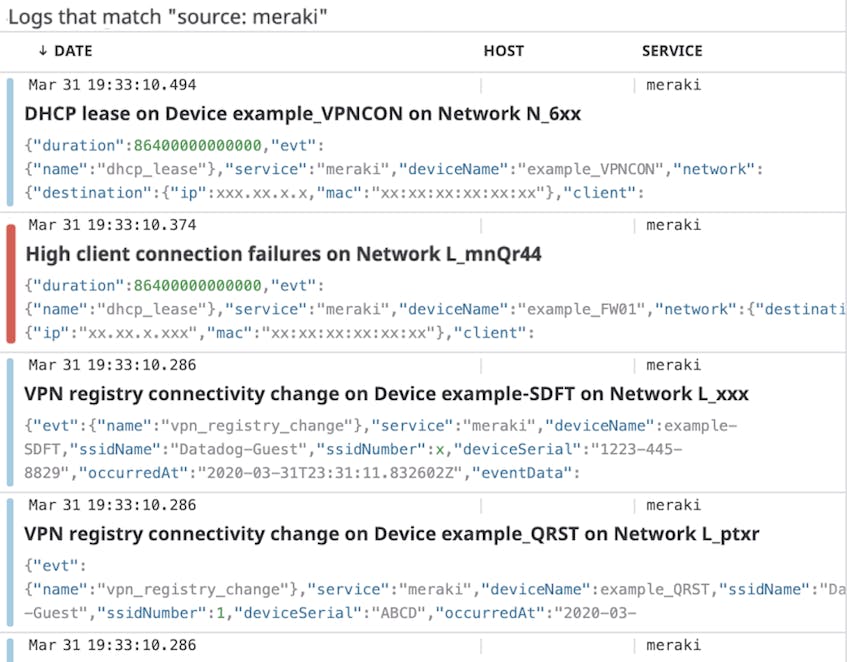 Datadog's support for Cisco Meraki extends our SNMP integration for monitoring on-prem network devices. Combining this with our Network Performance Monitoring product for deep insights into cloud-based network traffic data gives you full visibility into your entire network, whether you are migrating to the cloud or maintaining a hybrid environment. Datadog's Cisco Meraki integration—alongside our integrations with more than 650 other technologies—gives you a comprehensive view of the health and performance of your network as well as the rest of your infrastructure. If you have a Datadog account and want to enable our Meraki integration you can get started here. Otherwise, sign up today for a 14-day free trial.