We are thrilled to announce that, for the third consecutive year, Datadog has been named a Leader in the 2023 Gartner® Magic Quadrant™ for APM and Observability. We believe that this placement reflects Datadog's continued commitment to understanding our customers' most complex challenges and building products and services that give them the visibility they need into their applications.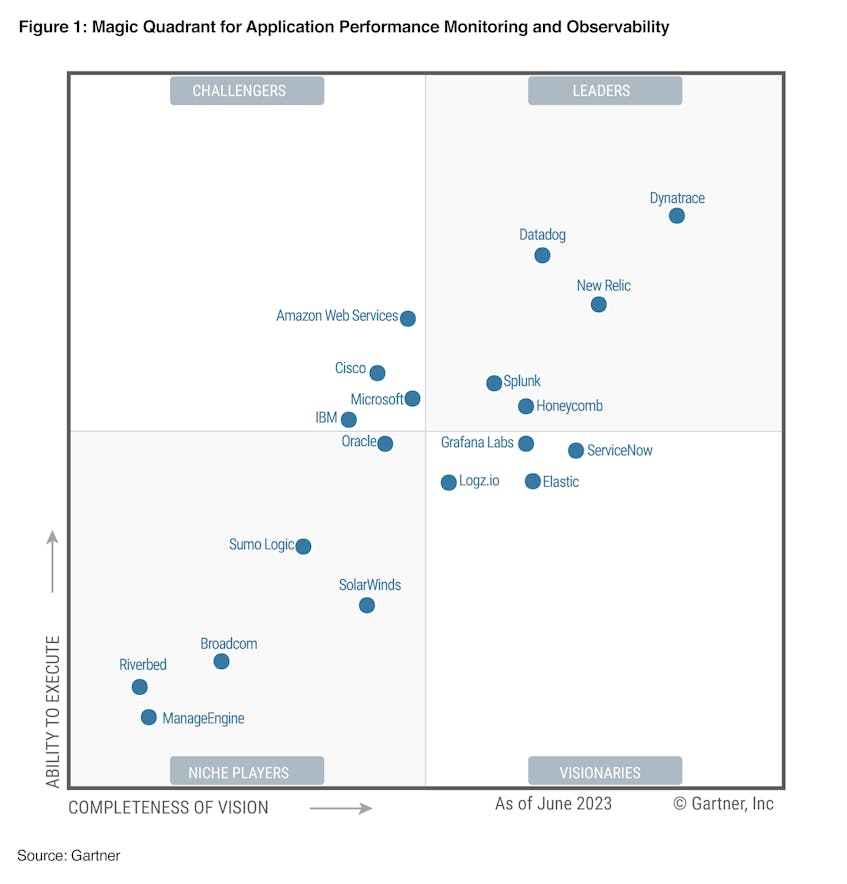 Datadog's observability and security platform breaks down organizational silos and provides all teams—including IT operations, development, security, and FinOps—a unified view into the health and performance of every part of their technology stack. Products such as APM, Universal Service Monitoring, and Service Catalog simplify microservice monitoring and governance. Watchdog—Datadog's AI engine—and Workflow Automation speed up root cause analysis and remediation, enabling customers to focus on innovation.
We believe that customer feedback is a core aspect of analyst reports. We feel that our recognition in this category showcases how Datadog supports our customers in their day-to-day lives. We are grateful to the users who continue to share their experiences and help us improve our platform and advance our mission.
Complete the form to read a complimentary copy of the report.
If you are a Datadog customer and would like to share your experience, you can share your review here.
Gartner disclaimer: GARTNER is a registered trademark and service mark of Gartner, Inc. and/or its affiliates in the US and internationally, and MAGIC QUADRANT is a registered trademark of Gartner, Inc. and/or its affiliates and are used herein with permission. All rights reserved.
Gartner Peer Insights content consists of the opinions of individual end users based on their own experiences with the vendors listed on the platform, should not be construed as statements of fact, nor do they represent the views of Gartner or its affiliates.
Gartner does not endorse any vendor, product or service depicted in this content nor makes any warranties, expressed or implied, with respect to this content, about its accuracy or completeness, including any warranties of merchantability or fitness for a particular purpose.