Unleashing holiday spirit at Datadog
The holiday season is a time to take stock of all we are grateful for and contemplate ways to give back. Today, as we prepare to kick off our second annual holiday food drive across all our offices around the world, we wanted to share a few things we learned from last year's experience.
Last year, Datadog Cares, the social impact group at Datadog, began brainstorming ideas for a company-wide initiative that would contribute to our local communities around the globe. A few challenges immediately presented themselves. What cause could span all nationalities and religions? How would employees find time to give back during this busy season? How could offices in New York, Boston, and Paris, as well as our remote employees get involved?
We decided that a food drive would be the ideal solution. Food is a universal necessity, it's inexpensive to donate, and employees located remotely could find somewhere to give locally.
Datadog is headquartered in New York City, where approximately 1.4 million people rely on emergency food programs each year. The statistics are hardly better in other major metropolises—1 in every 10 people in the Boston area struggle with hunger each year. With statistics like these, it can feel challenging to make a difference, but every little bit counts.
To encourage participation among our employees, we decided to start a friendly competition. We divided everyone into four teams: one for each of our offices in New York, Boston, and Paris, and a fourth for our remote employees.
Each team had a designated captain, who was in charge of providing donation boxes for their office and arranging delivery of donations to a local food bank. Remote employees could give to any local organization that collected food donations. Each captain also sent out reminders and updates to his/her team and tracked team participation on a spreadsheet.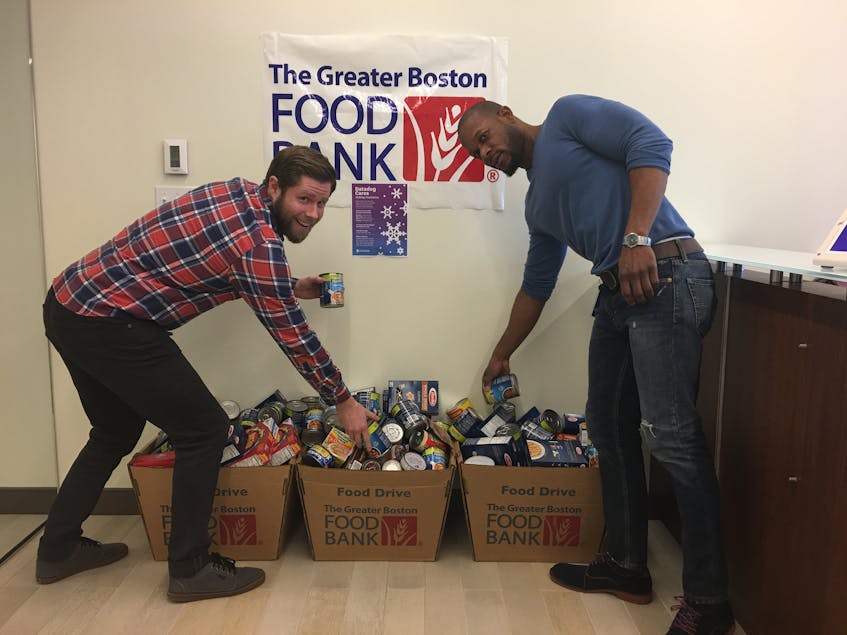 Datadog dashboards typically display metrics from your infrastructure and applications, but we decided to use them to monitor something else: our competition! We used the Google Sheets API and Datadog API to periodically send numbers from our food drive spreadsheet to Datadog. We then used those custom metrics to create a dashboard for tracking team participation in the Datadog Cares holiday food drive.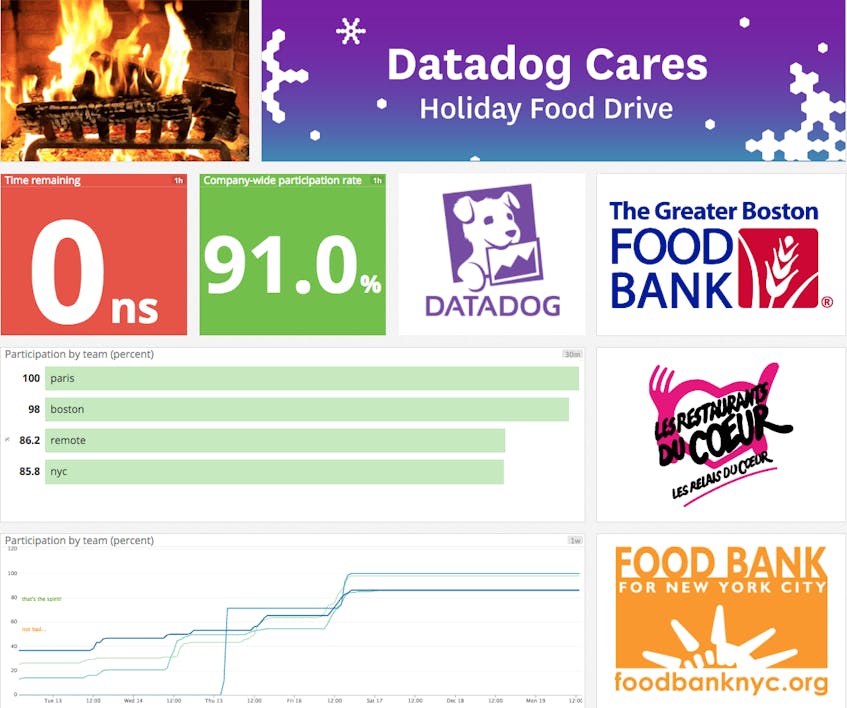 We displayed this dashboard on TV screens in each of our offices, and regularly shared it on Slack to promote participation. And we decided that it didn't matter how much someone gave, as long as they contributed. Although the point of entry can be as low as a pack of ramen noodles, once people make the decision to give, they are often quite generous.
To raise awareness of our food drive, we sent out a company-wide email and placed large bins in highly trafficked locations in each office. We also placed flyers on lunch tables and announced it in an all-hands meeting, and each team captain sent out reminders in Slack. We initially hesitated to ask employees to donate money, but we found that many people forgot to bring in cans, or were reluctant to carry heavy items during their commute.
Adding the option to make online donations to food banks was a game changer—donations spiked. And as the clock counted down, we saw a second spike that brought participation to a surprising high.
Thanks to a little friendly competition, the food drive closed with an overall participation rate of 91 percent. We had completed a company-wide initiative and created employee awareness for Datadog Cares initiatives, which run all year long.
This year, we look forward to scaling our food drive to reflect how our company has scaled. We're splitting into five teams this time: New York, Boston, Paris, and two remote teams—one U.S.-based and one international. Our smaller offices (San Francisco, Dublin, and Sydney) will be joining the remote teams, so that no single team has an unfair size advantage. Given how much we've grown over the past year, it will be difficult to reach such a high participation level again, but we're up for the challenge.
Happy holidays—we're excited to see what this year brings!