Monitor Google App Engine with Datadog
With the release of our Google App Engine (GAE) integration, Datadog has joined the Google Cloud Platform ecosystem. This release allows you to visualize, analyze, and alert on the performance metrics from your Google Cloud Platform infrastructure as well as custom metrics from GAE applications.
If you are a new Datadog customer, then we have a setup option just for you:
Click on the Sign up with Google link at https://app.datadoghq.com/signup.
Enter your details and be sure to check the Google App Engine checkbox.
You will then be taken directly to the Google App Engine configuration page where you can enter your apps' endpoint URL and task queues. You'll also see instructions on how to clone the gae_datadog repo into your code base and edit your app.yaml file to wire everything up.
Existing users can simply add the Google App Engine integration from the Integrations page and start at step 3 above.
As soon as you complete the configuration, Datadog will start collecting metrics on requests, memcache statistics, and task queues. With a little more effort you can also collect custom metrics using the various DogStatsD or API libraries. Google App Engine supports applications written with Python, Java, PHP, and Go and we have libraries available for each of these languages.
Once your account has been configured to use Google App Engine, you will see the integration dashboard which gives you a pre-configured look at the key metrics.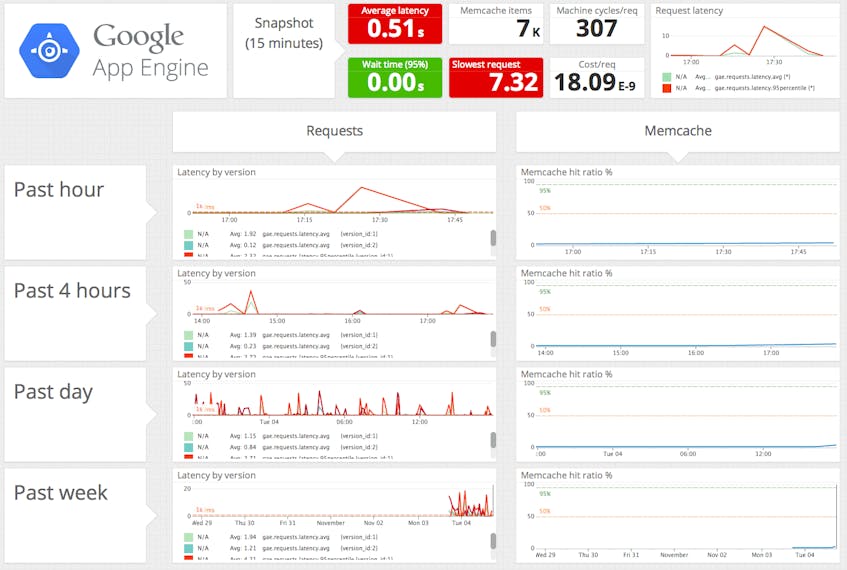 Every project and software version is tagged uniquely, such as project:web_router or version_id:1.0.34.2. And since one of the features of Google App Engine is the ability to gradually migrate visitors to your site from one version to another, you could overlay your dashboard metric graphs with the percentage of users on the newest platform.
Of course, when monitoring Google serverless applications in our platform, you also get all the other benefits of using Datadog: blending metrics from multiple cloud providers with on premises servers, alerting on any of the metrics collected, correlating the data to identify the issue's root cause, and collaboratively troubleshooting those issues.
If you'd like to monitor your Google Cloud Platform projects, you can try Datadog by signing up for our free 14-day trial.