We're happy to announce Datadog's new Salesforce Desk integration. With this integration, you can view trends in and set alerts on support case data as well as access new cases from events in the Events Stream. In addition, your support team can see its case metrics alongside operational metrics. This added visibility can help them determine if performance or availability issues are affecting support case volume.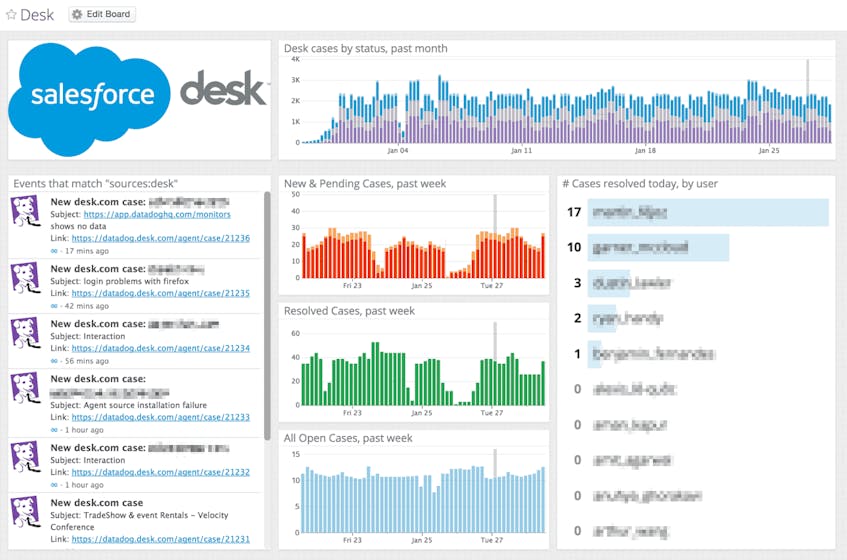 For example, a spike in new support cases could indicate a performance or availability issue within your application. By comparing that metric with performance metrics from the infrastructure (e.g. CPU utilization) or events from other systems (e.g. GitHub code commits or Jenkins deploys) you can see if there may be a relationship between them. Configuring alerts on case counts allows your team or management to be notified when there are spikes in support cases.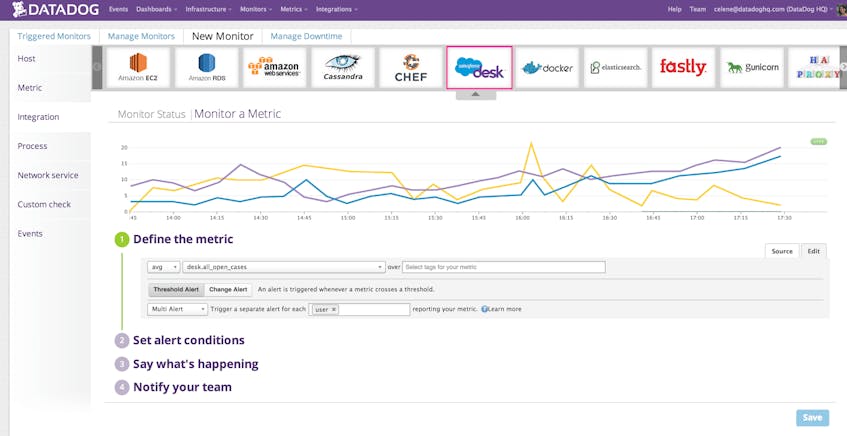 Last but not least, this integration can be used to create a dashboard of support case overview statistics which can be "sliced and diced" based on assigned user or case status (via tags). For instance, one can visualize the top resolved cases by user over the past day and the number of open cases in the organization over time. This dashboard can be easily shared with your management as well as other external teams and will always show data in real time.
We hope this integration helps your team stay on top of support issues and how they relate to the health of the organization. If you're not currently a Datadog customer, you can sign up for a 14 day free trial of Datadog and check out the Desk integration for yourself.