Dashing Dashboard Competition
As a Datadog user, you already know how important dashboards are for keeping an eye on your entire stack. In our own office we have many large-screen TVs displaying our most important dashboards. And while all of our dashboards are extremely useful, some of them can also be quite eye-catching. This is not unusual—many Datadog users not only make practical dashboards, but also spend time making them look awesome.
Have you built beautiful dashboards with Datadog? If so, the Datadog team would love to showcase your hard work. We are hosting a contest to highlight the best dashboards. We will be offering prizes for dashboards with both beauty and brawn (interesting use cases, practicality, etc.) At the very least, a dashboard should be better looking than Pied Piper's team jackets.
Important: Please make sure you do not disclose any confidential information when you tweet us a screenshot. Better yet, you might want to run it by the rest of your organization to make sure it is OK to submit.
One submission per Twitter handle per day. Yes! You can submit the same dashboard every day!
Dashboards must be submitted between Monday, September 19, and Friday, September 23 at 5pm ET
Tweets must include an image of the dashboard, the #DashingDashboards hashtag, and must end with cc: @DatadogHQ
Make sure you create a new tweet instead of "replying" so your tweet doesn't start with a @mention. Otherwise your dashboard won't be visible to others.
We'll retweet one of our favorites every day of the week. These winners will receive a Swag Package from us including Datadog t-shirts, a Datadog sweatshirt, and stickers. All winners (and other favorites) will be entered into a raffle to win an Apple Watch Series 2!
Here's an example from our own internal Dashboards: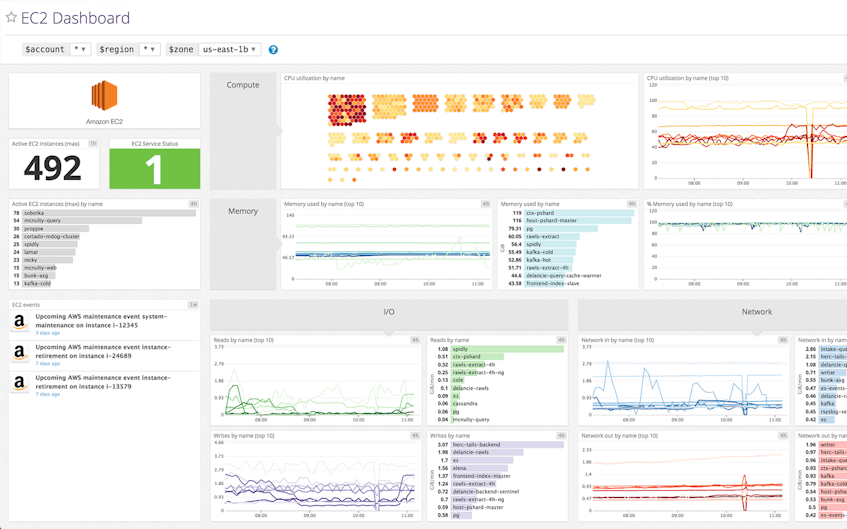 We made this dashboard to show how we recommend monitoring AWS EC2. Gotta love that color coordination.
Let the games begin!