Explore your data in full-screen graph mode
As you navigate through Datadog, you may find that you want to dive into a graph to explore your timeseries data more deeply, or make quick changes to a graph without permanently altering it. To make it easier to explore the data in your graphs, we're excited to introduce a newly revamped full-screen view for our timeseries graphs. You can now quickly and easily apply functions, navigate through time to find anomalies, and save and share your work. To access this exploratory view, either double click on your graph's header, or click on the full-screen button in the upper right-hand side of the graph.
Full-screen graphs enable you to apply advanced functions such as anomaly detection to your graphs, without needing to build a new graph or clone an existing one. With this new feature you can quickly click to apply smoothing, trend lines, anomaly detection, forecasting, or outlier detection. You can also visualize a cumulative sum of the data or an overlay of historical timeseries for comparison to a previous timeframe.
The new full-screen view doesn't just allow you to transform your graphs—you can also see how the data in your graphs fits into trends over longer timeframes. The mini-map below the main graph in full-screen mode displays the recent history of the timeseries so you can see the bigger picture, click and drag to switch timeframes, and zoom in and out of your selected timeframe on the fly.
The full-screen view is a great way to explore your data without needing to create a new graph or permanently modify your existing graphs. But if you do create a visualization that you want to keep, it's easy to save the changes to the current graph or save the visualization as a new graph.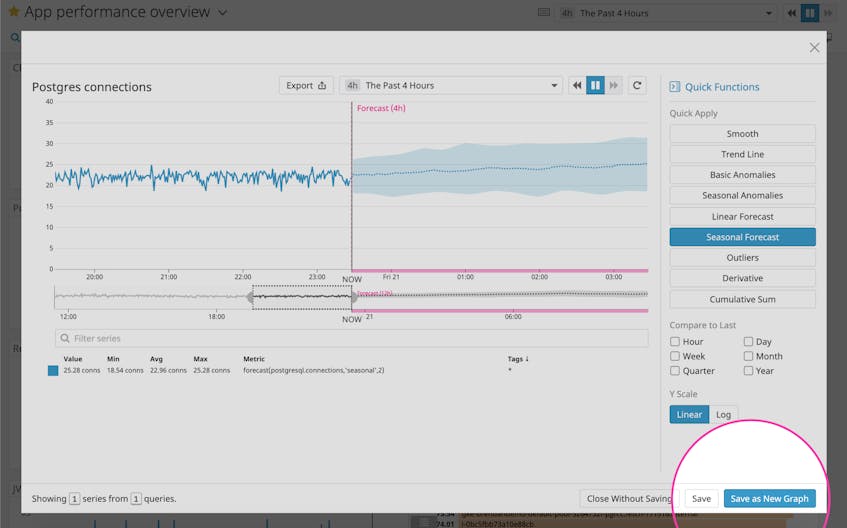 If you're already a Datadog customer, you can start exploring your data in full-screen mode on your existing dashboards today. If you aren't yet using Datadog, you can sign up for a 14-day free trial and start visualizing all your data in one place.