Collaborate, share, and track performance with Slack and Datadog
Whether you have 50 servers or 5,000 or you're a team of 2 or 20, you know that collaboration and real-time communication are key to strong performance, which is the reason why Datadog is pleased to announce our new integration with Slack.
Our Slack integration brings Datadog events and alerts directly to your Slack chat rooms. By mentioning "@slack-room_name" (e.g. @slack-datadog) within Datadog, you can keep your team updated on performance issues, share graphs, and send alerts and events to specific Slack chat rooms.
When you're fixing a pressing production issue, nothing is more distracting than having your team constantly asking for updates. The Slack integration provides a way to automatically keep the entire team updated. Simply mention "@slack-room_name" from the Datadog stream to spread the word and keep everyone informed.
Click the camera icon on any Timeboard graph to share a snapshot with your team.
Then, for instant notification, @mention your team's chat room and add some context to help your colleagues understand the problem you're seeing.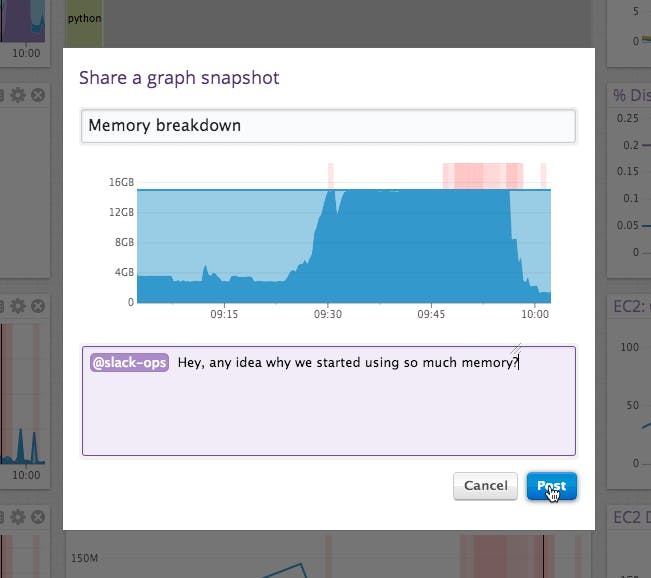 The snapshot will show up in your Slack channel updating everyone on the issue.

If you want Datadog to send alerts directly to Slack, add the Slack chat room to the notification list of any alert. You will be notified the next time the alert triggers and Datadog will post the relevant snapshot for you.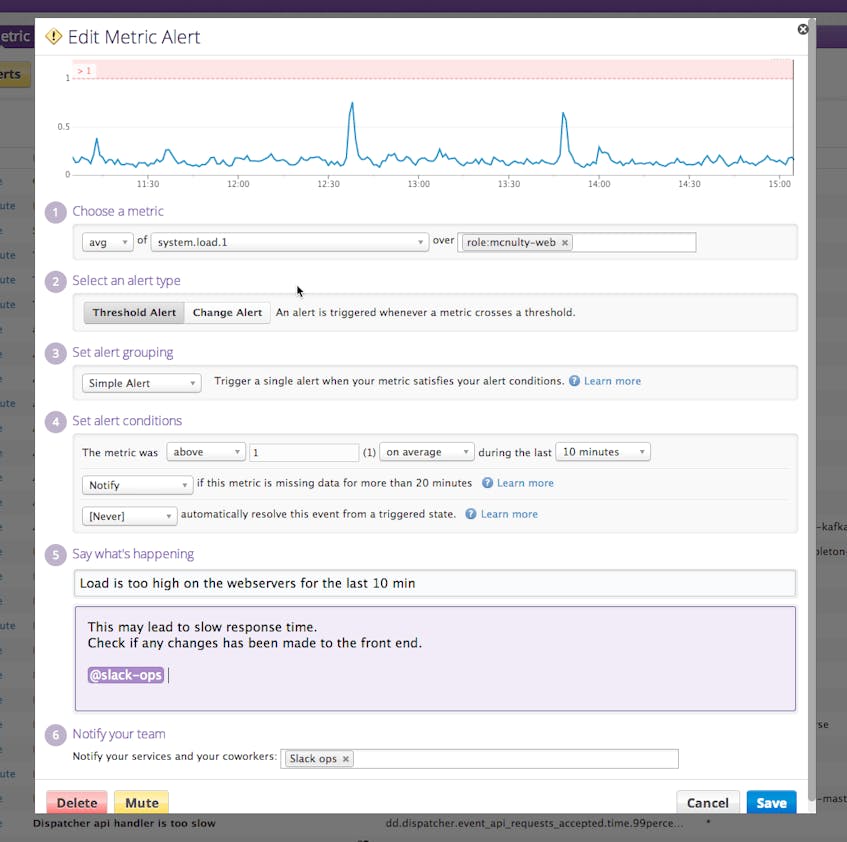 Slack offers a powerful search function. Conversations, files, links, as well as content integrated from Datadog are searchable in Slack helping you keep track of issues and events that occurred in the past.
If you're new to Datadog and you're interested in learning about how Datadog can turn the massive amounts of data produced by your apps, tools, and services into actionable insight, try it for free for 14 days.