Updated June 2022. This research builds on the previous edition of this article, which was published in May 2021. Click here to download the graphs for each fact. And click here to download our deck of the report.
Serverless has transformed application development by eliminating the need to provision and manage any underlying infrastructure. The current serverless ecosystem has grown more mature, and it now has considerable overlap with the world of container-based technologies. The wide range of available options has led over half of organizations operating in each cloud to adopt serverless.
For this report, we examined telemetry data from thousands of companies' serverless applications, and we identified three key themes in how teams are using serverless today. First, serverless compute has become an essential part of the technology stacks of organizations that operate in each cloud. Second, AWS Lambda remains extremely popular among AWS customers, who are using it in new ways to support their unique business needs. Finally, there are meaningful differences between the serverless offerings available within AWS, Azure, and Google Cloud, and each gives users distinct options for building serverless applications.
Continue reading to further explore these trends within the serverless landscape.
In 2020, we reported that half of Datadog's customers using AWS had adopted Lambda to run event-driven code with minimal operational overhead. As the popularity of FaaS products like AWS Lambda continues to grow, we have also seen a significant increase in adoption of other types of serverless technologies offered by Azure, Google Cloud, and AWS.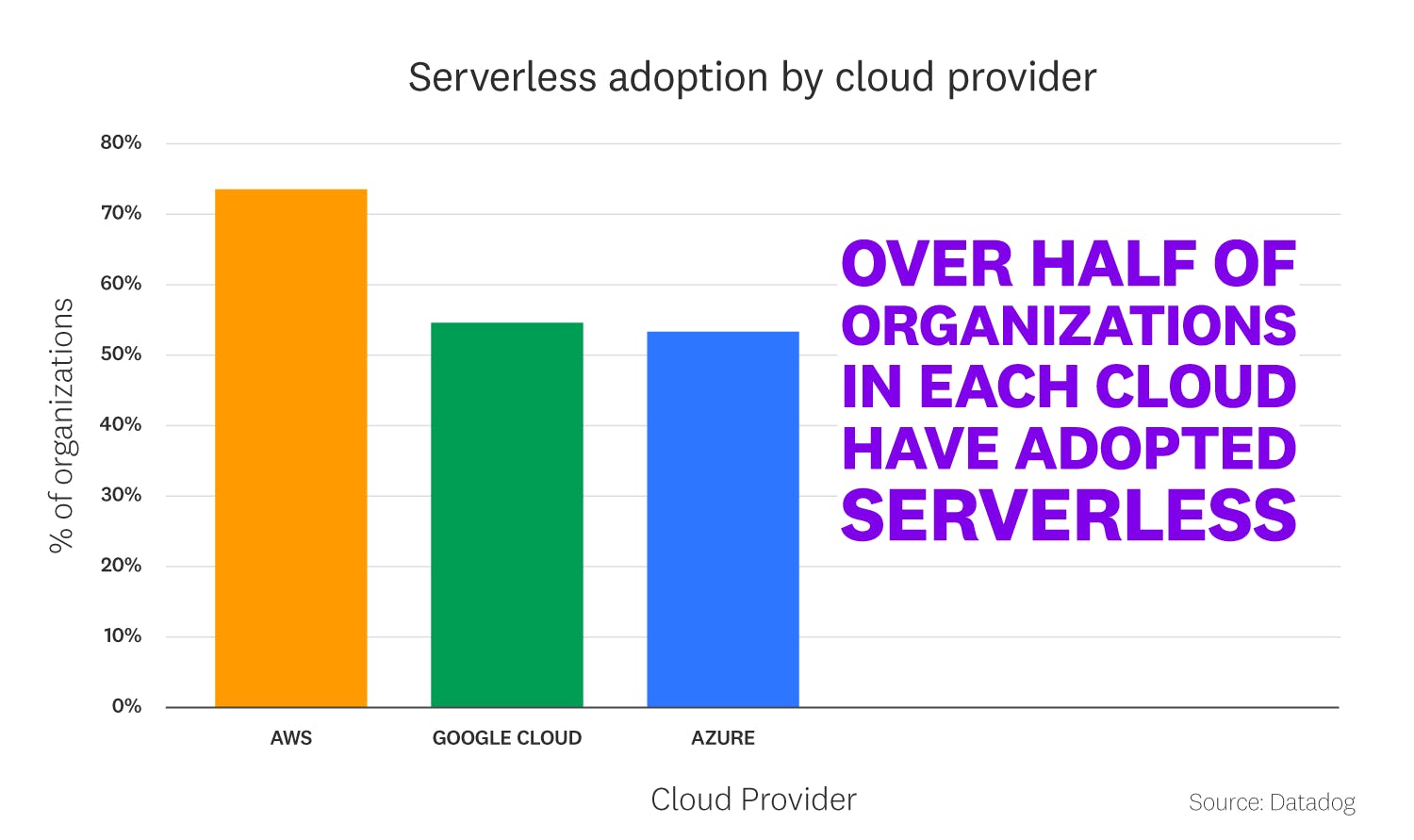 This evolution highlights the growing range of options available to organizations who want to go serverless, as well as a shift in how serverless technologies are leveraged. For instance, in addition to using individual serverless functions to run event-driven code, many organizations are also deploying containerized applications on serverless platforms such as Azure Container Instances, Google Cloud Run, and Amazon ECS Fargate. These services offer a range of benefits, which we will explore in more detail later in this report.
Note: For the purpose of this fact, a serverless organization uses at least one of the following technologies:
AWS: AWS Lambda, AWS App Runner, ECS Fargate, EKS Fargate
Azure: Azure Functions, AKS running on Azure Container Instances
Google Cloud: Google Cloud Functions, Google App Engine, Google Cloud Run
Serverless has demonstrated that it is the operational model of the future. Over the past year, we've seen 125 percent growth in the number of serverless function invocations on Vercel, fueled by serverless-oriented frameworks like Next.js.
—Guillermo Rauch, CEO, Vercel