Streamline support with Datadog's new Zendesk integration
Zendesk allows support teams worldwide to receive customer comments, questions, and ratings through a centralized, easy-to-use platform. Tracking and addressing customer support tickets is a crucial part of maintaining customer experience, but it can become increasingly difficult to manage as an organization scales its business.
Datadog's new Zendesk integration helps close the gap between customer experience and infrastructure health, while keeping your team in the loop. This allows you to track and visualize ticket metrics, and create and update tickets in Datadog.
Once you have set up the Zendesk integration, you'll automatically start collecting and visualizing ticket metrics in an out-of-the-box dashboard.
Collected metrics include daily and weekly ticket resolution rates, number of assigned tickets, ticket status, and the number of good and bad ratings submitted today. The 'New Tickets' event stream displays Zendesk ticket events as new tickets are opened.
Zendesk tickets can be created in two ways from within your Datadog account. Add a ticket manually by typing @zendesk-group-name in the comment section of any event within your event stream. The @zendesk-group-name command will autocomplete with the names of the groups added in the integration tile. Using the group name will automatically assign the new ticket to that group within Zendesk.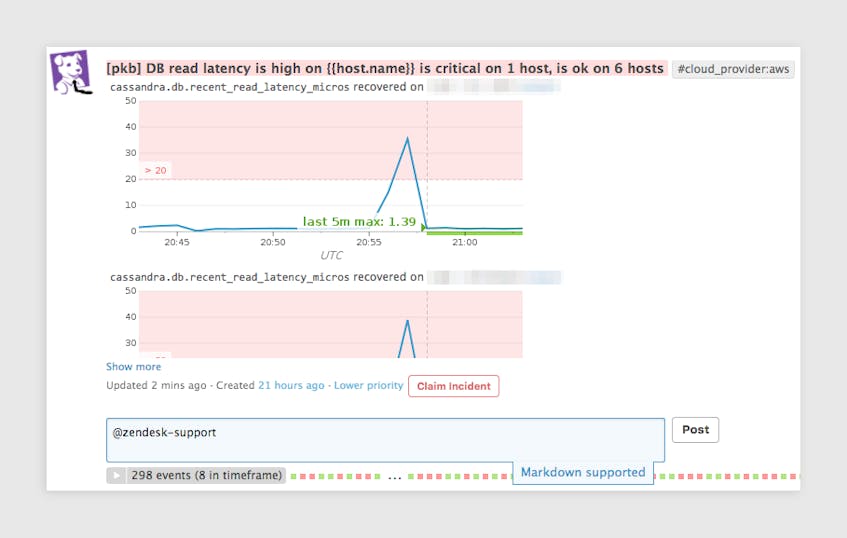 You can also configure alerts to automatically create Zendesk tickets by adding a @zendesk-group-name mention to the alert parameters. When triggered, the alert will create a ticket with any contextual information added to the alert and assign it to the appropriate group in Zendesk.
If you would prefer for a ticket to remain unassigned, you can use the general @zendesk command when defining an alert or manually creating a ticket from your event stream.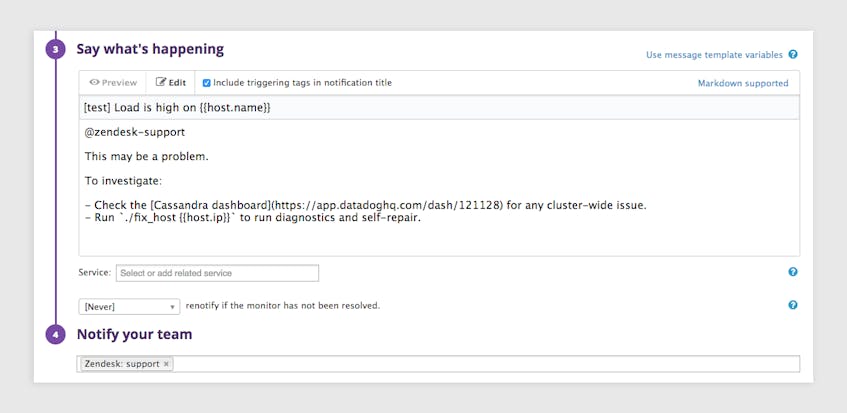 Datadog also allows you to update existing Zendesk tickets by adding @zendesk-update to the comment section of an event. Ticket updates are reflected in Zendesk as well as Datadog, keeping your team up to date with ticket statuses across services.
Try the new Zendesk integration by clicking on the Zendesk tile, then adding your domain and user credentials. If you plan to assign tickets to groups, add the group names exactly as they appear within Zendesk to the Notification groups section of the tile, then click 'Update configuration'.
If you'd like to gain insight into your infrastructure performance and your support ticket metrics today, sign up for a free trial! If you're using Salesforce Desk, you can read about how to integrate Desk with Datadog here.