Signal Sciences brings real-time web attack visibility to Datadog
Signal Sciences is proud to announce our integration with the Datadog platform. This integration furthers our mission of producing the leading application security offering that empowers operations and development teams to proactively see and respond to web attacks—wherever and however they deploy their apps, APIs, and microservices.
As the only next-gen WAF (web application firewall) built for today's rapid development and deployment environments, Signal Sciences has integrated with Datadog to allow users to visualize and analyze web application activity in their Datadog dashboards, and to receive alerts about potential attacks. By allowing teams to monitor their application security activity on the same platform they use for infrastructure and applications, Signal Sciences aims to help companies simplify their workflows on the services they love.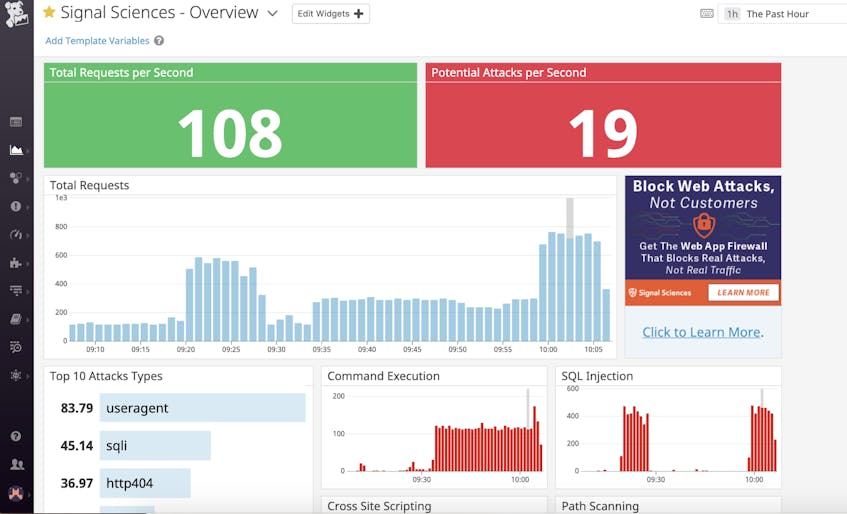 Datadog's powerful capabilities allow users to monitor application performance, analyze logs in context, create custom alerts on critical issues, and collaborate with team members to resolve production incidents. This visibility is critical when organizations are dealing with malicious activity across their web applications. Layer 7 attacks such as app-level DDoS, API abuse, and credential stuffing pose both security and resource-utilization risks for a company and its users: these attacks can cause excessive resource consumption and impact performance across applications.
Building upon our initial integration with Datadog, which enabled Signal Sciences to send flagged IP events to the Datadog event stream, we've now added powerful visualizations to aid in faster identification of potential threats. The Signal Sciences dashboard shows a high-level overview of key web layer attack metrics, such as total traffic allowed and blocked, OWASP Top 10 attacks, anomalous web requests, and more. Users can quickly see whether their web apps, mobile apps, or API endpoints are being threatened in real time by malicious or anomalous HTTP requests. Additionally, if Signal Sciences users experience high traffic activity or resource spikes, the Signal Sciences dashboard makes a perfect cross-reference tool to help identify potential attacks and accelerate remediation times.
With the Signal Sciences dashboard, any Datadog user can get immediate visibility into real-time malicious behavior against their applications and APIs with the most trusted web security solution on the market. Deploying our lightweight agent and module into your application web server and alongside application code will automatically stream attack request data to Datadog for monitoring and analytics. You can see data on attacks and anomalies like SQLi, XSS, 4xx and 5xx errors, and more.
With Signal Sciences and Datadog, you'll have the insights to determine if your app is under attack or if you're seeing errors resulting from a bad code deployment. You'll also gain visibility over suspicious traffic coming from untrusted sources like TOR exit nodes, data centers, and malicious IPs identified by the SANS Institute. In Datadog, you can monitor any malicious behavior detected by SmartParse—proprietary Signal Sciences technology that provides highly accurate detection across the most common web attacks out of the box.
If you're already using Datadog, you can get started with the new integration by signing up for a free trial to see for yourself the visibility Signal Sciences provides. You can install the Signal Sciences agent on your web servers monitored by Datadog, including NGINX, IIS, and Apache web servers.
As the world's fastest growing web application security company, Signal Sciences protects over 15,000 applications and inspects and makes decisions on over a trillion production requests per month with our award-winning next-gen WAF and RASP (runtime application self-protection) solution.
You can learn more about the comprehensive visibility provided by our new integration with Datadog by watching our on-demand joint webinar, or by visiting Signal Sciences at Datadog's Dash Conference in NYC, July 16-17.