Monitor Microsoft 365 with RapDev's integration in the Datadog Marketplace
Editor's note: Office 365 is now called Microsoft 365, which is how we will refer to it throughout this post.
Microsoft 365, formerly known as Office 365, is a suite of cloud-based productivity and communication services that is used by more than one million companies worldwide. The applications included in the suite are critical to the daily workflows of subscribers and therefore require careful monitoring in order to minimize the effects of downtime and ensure optimal usage.
RapDev's Microsoft 365 integration enables Datadog customers to track product activity, usage, and licensing across Exchange, Outlook, Sharepoint, OneDrive, Yammer, Teams, and Skype. The integration, which is available through the Datadog Marketplace, comes equipped with robust out-of-the-box dashboards and a suite of carefully calibrated Synthetic tests, so users can spot operational issues as quickly as possible.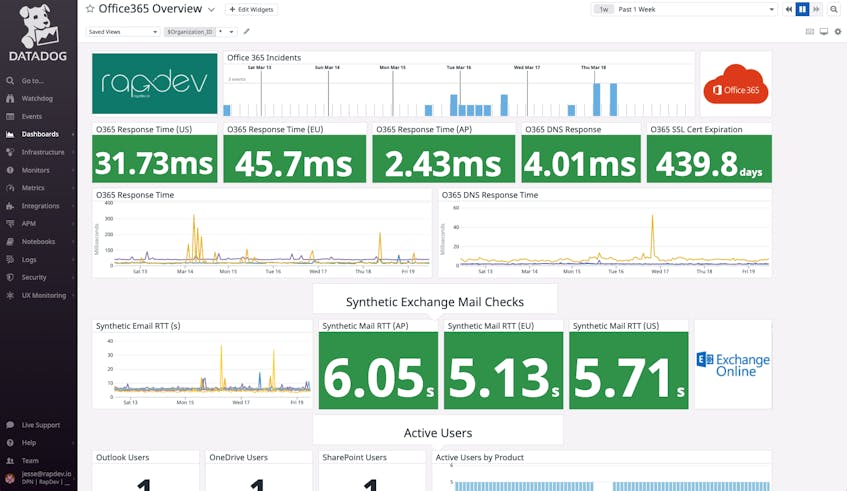 One of the key features of RapDev's Microsoft 365 integration is a comprehensive out-of-the-box dashboard that visualizes key performance metrics, such as the number of incidents and DNS response times, across the entire Microsoft 365 suite. These metrics can be filtered by a variety of facets, such as User, Organization_ID, and Sharepoint_Site, so you can zero in on particular activities or subsets of users within your organization. You can also create monitors for any of these metrics, which will immediately notify you of concerning activity within Microsoft 365. And because Microsoft 365 metrics can be easily correlated with other monitoring data collected by Datadog, including Microsoft 365 audit logs, you can conduct efficient investigations and resolve issues quickly.
You can also view usage metrics for individual applications within Microsoft 365, such as the amount of Outlook mailbox storage your organization has used and the number of calls that have been placed on Teams. These application-specific metrics help you better understand how Microsoft 365 is being used across your organization so you can make optimization decisions accordingly.
Datadog Synthetic Monitoring enables you to proactively test key user journeys to ensure that your applications and endpoints are behaving as expected. RapDev's Microsoft 365 integration includes out-of-the-box Synthetic tests that were tailor-made for Microsoft 365, so you can start monitoring your Microsoft 365 workflows from the moment you install the integration. These tests, which automatically run at continuous intervals across all locations, check that the Microsoft 365 applications are online and responding to requests in an acceptable amount of time. They also validate specific workflows on Outlook, Teams, and OneDrive, such as sending IMs and downloading files. The aggregated test results are displayed on a dedicated dashboard, so you can spot problematic UX performance trends before they affect your users.
In addition, RapDev's Microsoft 365 integration validates email performance by sending test emails to various mailbox servers, which enables organizations to track SMTP relay hops and email service anomalies. These tests also allow users to monitor their internal spam and security filters in order to ensure that incoming email from external sources is handled appropriately.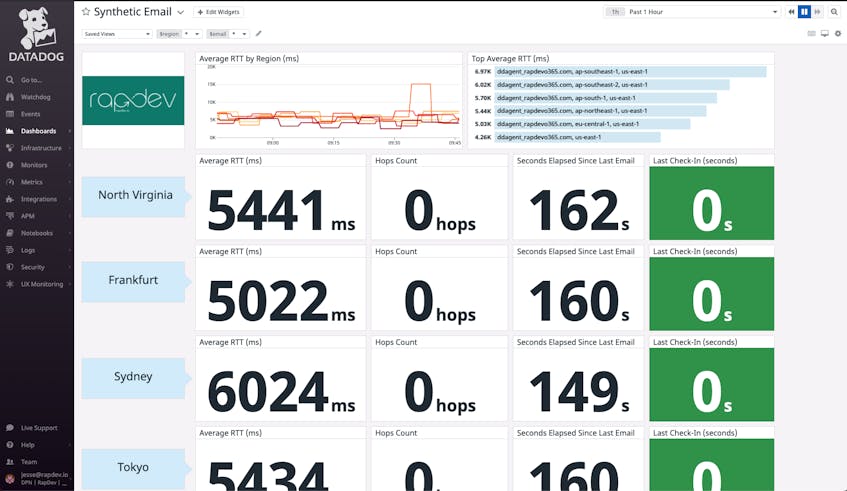 Microsoft 365 requires licenses for each user, but when employees leave the company or departments are restructured, unused licenses can go unnoticed. RapDev's Microsoft 365 integration allows organizations to easily monitor license usage for all of their Microsoft 365 accounts. This enables you to easily identify licenses that have been inactive for 30, 60, or 180 days, so you can eliminate unnecessary spending on Microsoft's licensed products.
RapDev's Microsoft 365 integration is currently available in the Datadog Marketplace, along with other Datadog integrations developed by RapDev. Not sure if the integration is right for you? Take it for a free two-week test drive to experience the benefits of increased visibility into this business-critical application suite.
If you're not yet a Datadog customer, you can learn more about the Datadog Marketplace in our blog post—and sign up for a 14-day free trial of Datadog.
The ability to promote branded monitoring tools in the Datadog Marketplace is one of the benefits of membership in the Datadog Partner Network. If you're interested in developing an integration or application for the Datadog Marketplace, contact us at marketplace@datadog.com.