Datadog Spotlight: Stephanie Molano
This month, we're excited to feature Stephanie Molano, one of our Commercial Account Executives based out of Fort Lauderdale, Florida. As part of our Commercial Sales team, Stephanie focuses on communicating the value of the Datadog product to the Latin American market. We spoke with Stephanie about her career path at Datadog, her leadership role in our Latinx Community Guild, and how she finds ways to connect with prospective clients and colleagues through her own cultural background. Here's what she had to say.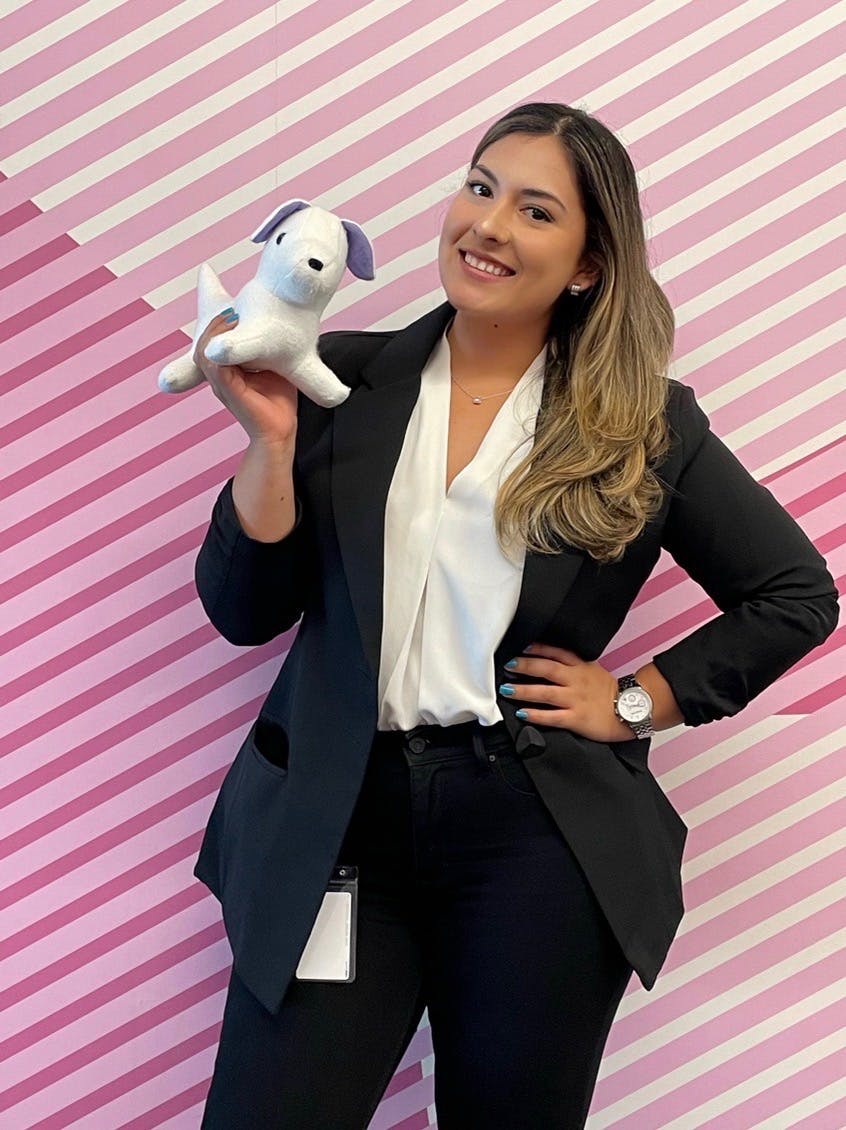 Tell us about your journey to Datadog.
My journey at Datadog began directly after I finished school. Like many others in the graduating class of 2020, I had a very unique experience navigating a job search during the peak of the COVID-19 pandemic. As a result of this unprecedented event, innovation became increasingly important for businesses, and I wanted to be part of an industry and company that was constantly challenging themselves and evolving. I came to learn that Datadog was built with innovation at its core, and they used it as a driving force in helping other companies innovate within their own organization. For these reasons, I chose to join the sales team and advocate for Datadog products. Plus, I wanted to make a cultural impact and help those from my own background (Latin America) adopt Datadog to achieve their business goals.
What does a day in your life look like?
I wear many different hats in my role as a Commercial Account Executive, from project manager to negotiator—even sales consultant. Most of my days include meeting with clients, presenting our products, conducting demos, assisting with implementation of the Datadog platform, and helping customers build their budget. I also spend my time calling and emailing prospective clients that could make use of Datadog and our products, and I bring light to the value they'd be able to add to their department with our platform.
What is the culture of the Commercial Sales team like?
The Commercial Sales team at Datadog is passionate about what we do and the relationships we build. We're ambitious and hungry to help our customers and drive change within the organizations we serve. Showcasing how the product can help organizations achieve their goals is a main priority, which also leads us to be data-driven and perseverant. We are a collaborative, team-first group who always support one another with any project or challenge. Whether in-person or remote, we make sure to frequently celebrate our successes and come together socially and professionally.
How have you grown in your career here at Datadog?
I started at Datadog in 2020 as a Sales Development Representative (SDR). As an SDR, I was the first point of contact for prospects in the Latin American region (LATAM), and I handled early interactions with our clients. I quickly grew into a top performer and was considered for a promotion just 11 months after starting. I then became an Account Executive (AE), which meant I could independently handle the sales cycle from start to finish. Since then, I have also been promoted to coleader of the Latinx Community Guild here at Datadog!
Can you tell us about the Latinx community at Datadog?
Every day at Datadog, I'm able to connect to my roots and my community as an Account Executive aligned to the LATAM region, and because of this, the value I hold for my background and identity grows each day. It's the mission of the Latinx Community Guild to help others feel the same sense of value and belonging regardless of the department they belong to. We have people from all different backgrounds and cultures within Latin America who are eager to connect with each other and share commonalities no matter which part of the world we find ourselves in. Datadog wants you to be able to bring your whole self to work, and the Latinx Community Guild is here to empower those who identify as Latinx or as allies to come together in a safe space and honor our cultural diversity.
Datadog is growing, and we're looking for people to join our teams around the world. Learn more about open roles—and #DatadogLife—on our Careers page.