Integrate Alibaba's DingTalk with Datadog for faster troubleshooting
Real-time collaboration helps teams resolve issues quickly, which is crucial during outages when you don't have a minute to lose. If your organization is using DingTalk, Alibaba's platform for cross-team communication and collaboration, Datadog's new integration lets you share and discuss annotated graphs on the fly and route alerts to your teams' group chats so you can start troubleshooting issues without skipping a beat.
In complex, ever-changing cloud environments, it's virtually impossible to detect issues manually. Automated alerts notify you of critical events in your infrastructure so you can quickly start investigating the root cause. With Datadog, you can set up alerts to automatically detect significant changes in your Alibaba Cloud environment, like an unexpected deficit in available memory or a spike in 5xx errors from your Server Load Balancer instances. With this integration, you can send these alert notifications to specific DingTalk groups to ensure that the correct team(s) know about the issues that matter most. Within the Notify your team field of the alert's configuration page, enter @dingtalk-<GROUP_NAME> for each DingTalk group you want to notify.
In the screenshot above, we are configuring an alert on 5xx errors from Alibaba's Cloud Content Delivery Network. If this alert triggers, Datadog will push the notification to the "DevOps100" DingTalk group. The notification will include a message as well as a link to the alert within your Datadog account so that team members know exactly where to look to get more context around the issue. In this case, Datadog detected an unexpected spike in 5xx errors on our Alibaba Cloud CDN instances. If you click on the link, you can view a history of times the alert was previously triggered and then navigate to relevant metrics, logs, and distributed request traces collected from the related Alibaba services you're monitoring with Datadog.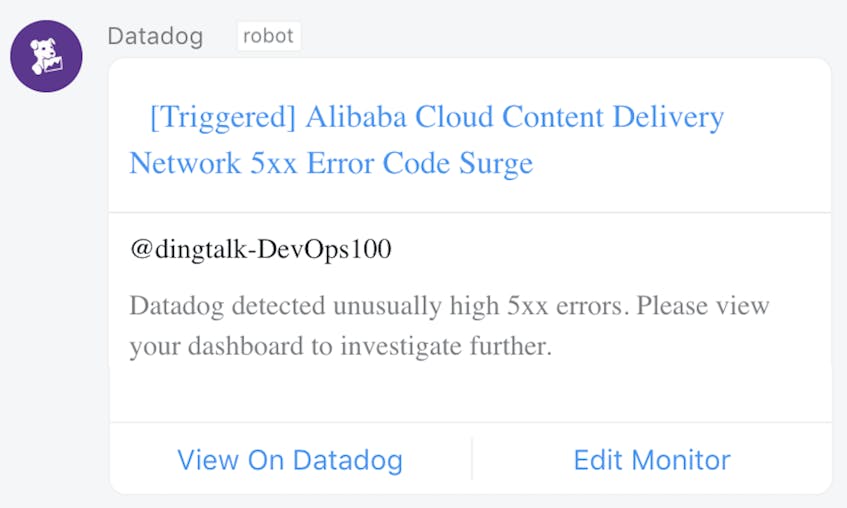 When you're collaborating with your team to resolve a user-facing performance issue, sharing data-driven insights can add more clarity to your discussion. In Datadog, you can annotate any graph in your dashboards to highlight a potential issue or specific trend that you want to discuss with your team.
To annotate a graph, click on it and select "Annotate this graph." Then highlight the relevant portions of the graph and use the same @dingtalk-<GROUP_NAME> syntax to send the graph to one or more DingTalk groups, along with your comment or question. Sharing annotated snapshots is a fast and easy way to determine whether a trend or anomaly you noticed was expected (e.g., related to routine maintenance) or if it warrants further investigation.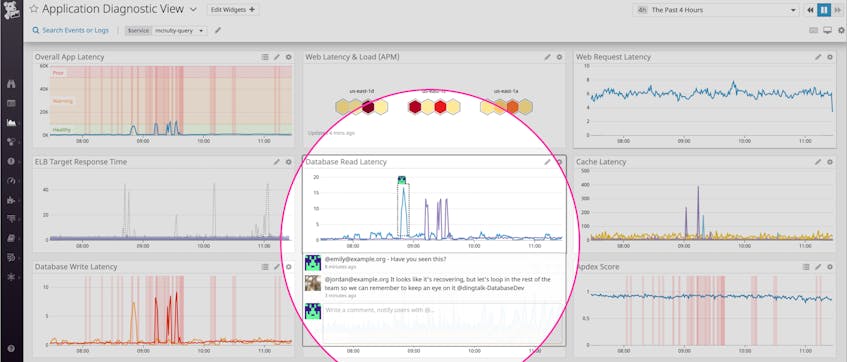 In addition to annotations, you can also spark a discussion by using Datadog's copy/paste feature to share graphs and widgets in a DingTalk group chat or directly with any of your contacts. Group members will see a preview image that links to the original visualization and dashboard in the Datadog app, making it easy for everyone on your team to get more context around potential issues and discuss next steps for remediation.
Datadog is pleased to add DingTalk to our more than 600 integrations, which include other collaboration platforms like PagerDuty and Slack. Along with DingTalk, Datadog also integrates with Alibaba Cloud services such as Server Load Balancer, Elastic Compute Service (ECS), and ApsaraDB RDS. Together, these integrations will help you get visibility into your Alibaba Cloud environment and collaborate to resolve issues in real time. To get started with our DingTalk integration, follow the steps outlined here.
If you're not already using Datadog, sign up today for a 14-day free trial .