Integrate Datadog with Google Hangouts Chat
Note: Datadog's Google Chat (formerly Google Hangouts Chat) integration is only available in the US1 site.
In an outage, every minute counts—and real-time communication is essential for helping teams collaborate to reduce mean time to resolution. If you're using Google Hangouts Chat as your communication platform, Datadog's new integration allows your team to share and discuss annotated graphs, see when alerts are triggered, and instantly start collaborating to resolve issues.
When a graph on your Datadog dashboard shows a trend or an anomaly, you may need cross-team collaboration to understand whether it represents an expected event (like a database migration or upgrade), or an issue that requires further investigation. Our new integration makes it easy to start a discussion with all the relevant teams by sharing a snapshot of a graph in any of your Hangouts Chat rooms.
Just click the camera icon, highlight the relevant section of the graph, and type your message. Then mention @hangouts-<ROOM_NAME> to send it to a room. You can share a snapshot with as many Hangouts Chat rooms, email addresses, and other collaboration tools as you like. In the example below, this user has highlighted part of the graph and included a message to provide more context.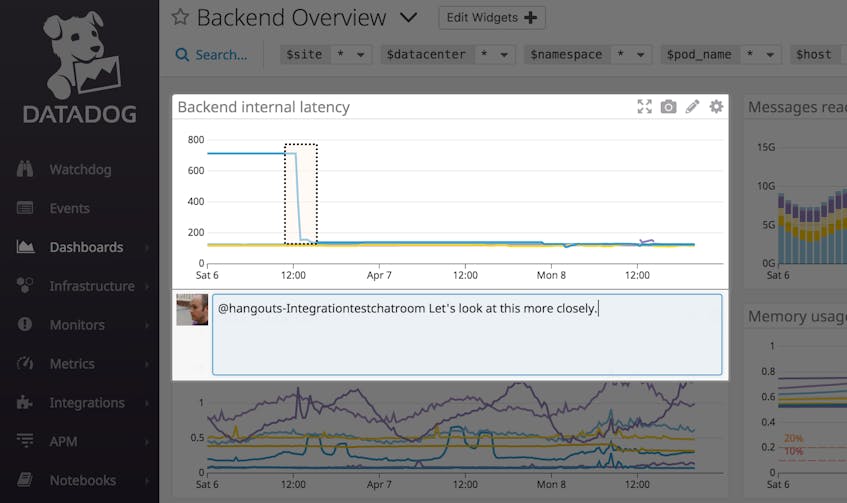 The annotated graph will appear in the specified Google Hangouts Chat room. As soon as the graph is posted, team members can begin to discuss the issue and can quickly bring in colleagues to collaborate.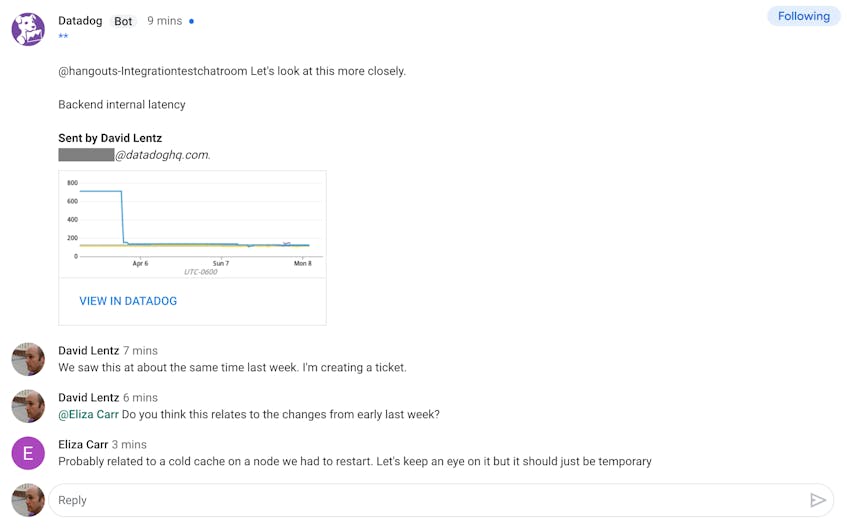 If the team needs more information, they can click the VIEW IN DATADOG link to navigate to the dashboard, where it's easy to pivot to view related logs or host metrics. If a similar issue arises in the future, your team has a record of the discussion, so you'll be able to search the room to find the graph, annotation, and replies from room members.
When you create an alert in Datadog, you designate users who will be notified when the alert is triggered. To automatically route a triggered alert notification to one or more Hangout Chat rooms, add the room names in the Notify your team field in the alert's configuration. You can notify each Hangouts Chat room independently, precisely targeting your communication to send relevant alerts to the right teams. Type "@hangouts-" followed by the name of the Hangouts Chat room where you want the alerts to appear, then click Save.
Any time the alert is triggered, all members of the designated room will see a new message detailing the alert conditions so your team can collaborate to swiftly resolve the issue. The alert notification message will include a link to view the alert within your Datadog account, where you can see the alert's history and current status.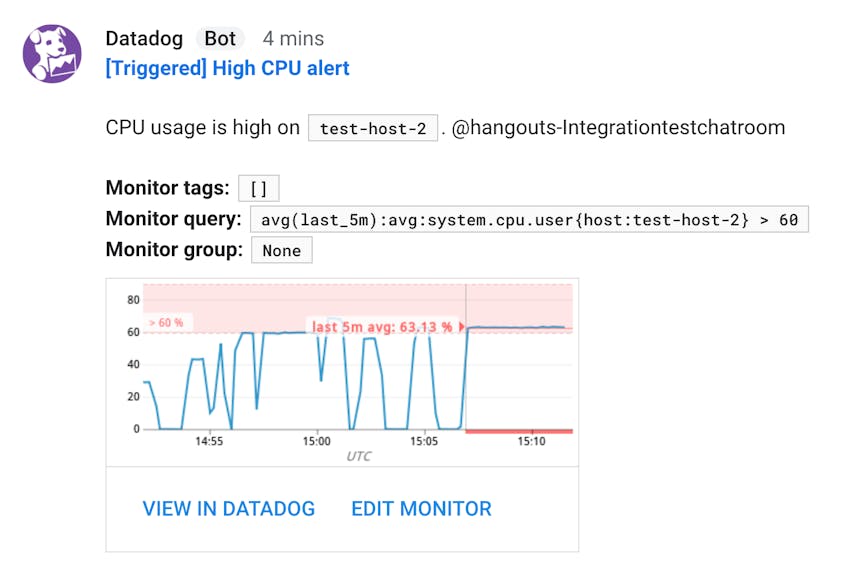 When you integrate Google Hangouts Chat with Datadog, monitoring data becomes part of your team's discussion, and you can efficiently collaborate to resolve issues as soon as they arise. To enable the integration, navigate to the Google Hangouts Chat tile in your Datadog account, then click the Install Integration button. Then follow the setup instructions in our documentation.
If you're not already using Datadog, sign up today for a free 14-day trial.