Improve your on-call experience with Datadog mobile dashboard widgets
Life happens—even when you're on-call. You can't take your laptop everywhere, but whether you're on the train, at dinner, or at the gym, you can count on the Datadog mobile app for access to key data about the status and performance of your applications. Now, you can use Datadog mobile widgets to build an on-call mobile dashboard directly on your phone's home screen, so it's even easier to track the data you care about from anywhere.
In this post, we'll discuss how mobile widgets help you simplify your on-call life by letting you keep tabs on the status of your monitors, incidents, and SLOs—without opening your laptop or the mobile app. We'll also show you how to create a mobile dashboard by combining mobile widgets with other apps and data, and how built-in features on iOS and Android phones can keep you focused when it matters most.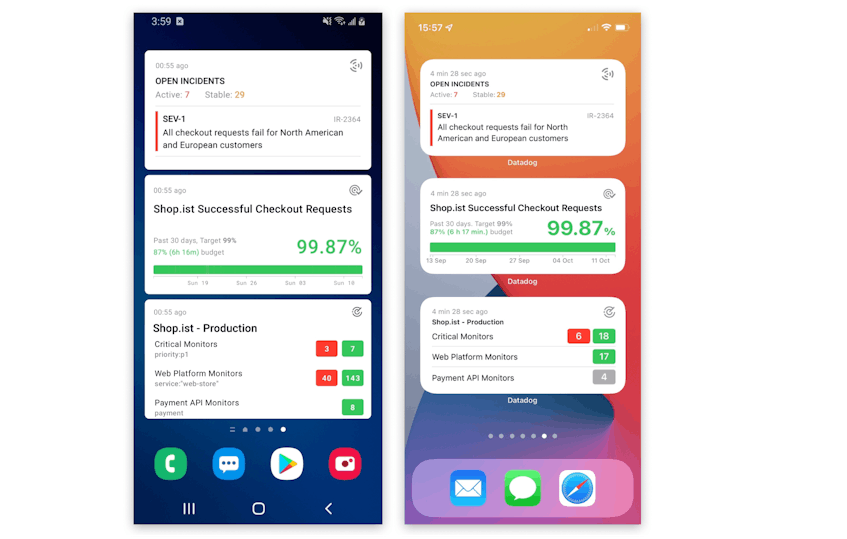 The Datadog mobile app lets you track the status of your monitors, incidents, and SLOs right from your phone, which gives you freedom to do the things you love, even when you're on call. But every minute counts, whether you're keeping an eye on your application or enjoying your weekend. Datadog mobile widgets provide quick visibility into the health of your services, so you'll know immediately whether there's an issue that needs your attention.
In this section, we'll describe the Datadog mobile widgets you can install to jump-start your troubleshooting, investigation, and incident response—without opening your laptop or even an app.
When you get paged, you often need to check the status of multiple monitors quickly in order to understand the alert's context. The monitors widget enables you to see curated groups of monitors (known as monitor saved views) on your phone's home screen, so you can quickly assess the scope of an issue. To investigate and respond to an alert, you can tap the widget to open the app and explore relevant metrics, mute noisy monitors, or create an incident.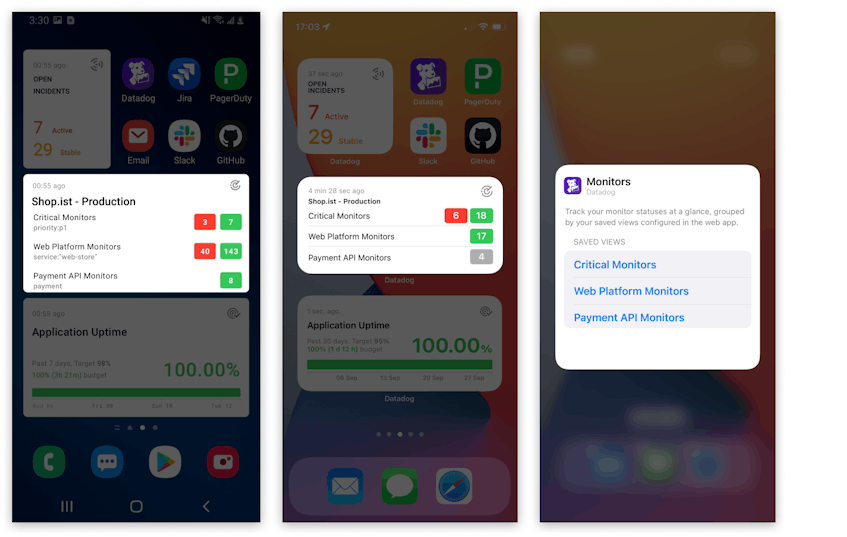 Incidents are unscheduled by nature, and they're often long-running, so it's important to manage them efficiently to minimize disruptions to your time outside the office. You can create and resolve incidents from anywhere with the Datadog mobile app, and now the incident status widget further streamlines the process by bringing actionable incident information to your phone's home screen. You can customize the widget to show you data from incidents that have tags or severity levels you specify; for instance, you may only want to see the status of SEV-1 incidents that are tagged service:payment.
The incidents widget provides up-to-date information so you'll know if you need to stop what you're doing to focus on an incident. And because Datadog's rich set of incident management features is just one tap away in the mobile app, you can manage ongoing incidents even without access to a laptop.
Your team can use SLOs to ensure that your services are meeting performance targets and the needs of your users. SLOs never pause, though, and now you can use the new mobile SLO widget to easily track their status and budgets, whether you're in the office or on call. This at-a-glance SLO data can bring useful context to a new incident or an alert that has triggered, helping you prioritize and accelerate your troubleshooting and incident response activities.
In the screenshot below, the widget shows the current status and performance history of the Application Uptime SLO. The service has performed above its SLO target and currently has 100 percent of its budget remaining.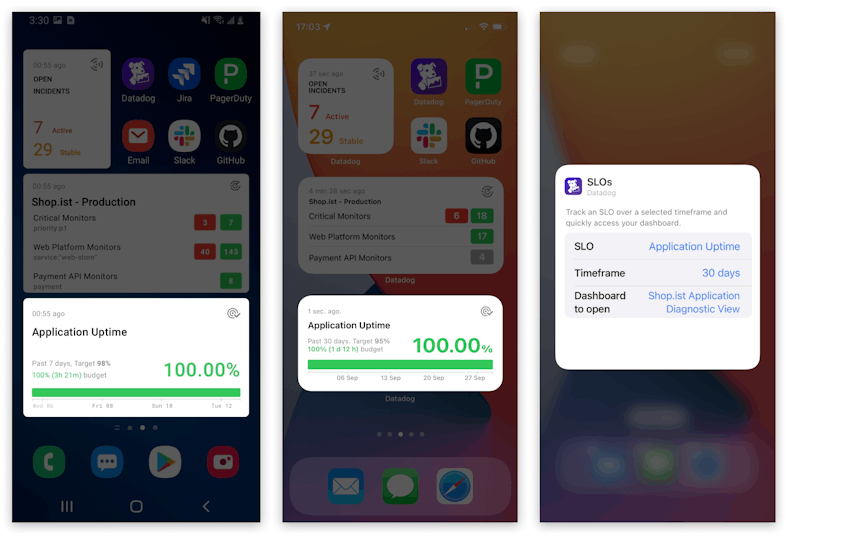 You can use any of these mobile widgets to easily keep tabs on key monitoring data when you're away from your laptop, but they're most powerful when used together. You can combine multiple widgets into a customizable on-call mobile dashboard that lets you see your monitors, SLOs, and incidents in context and immediately begin troubleshooting. You can also incorporate collaboration, communication, and incident tracking tools, which can help jump-start your incident response workflows.
For example, the screenshots below show seven active incidents and numerous triggered monitors. Even though your Application Uptime SLO status is healthy, you may need to initiate your team's incident response process. You might start by tapping the Slack icon to review current threads, paging relevant teams through PagerDuty, or launching the Datadog mobile app to investigate further.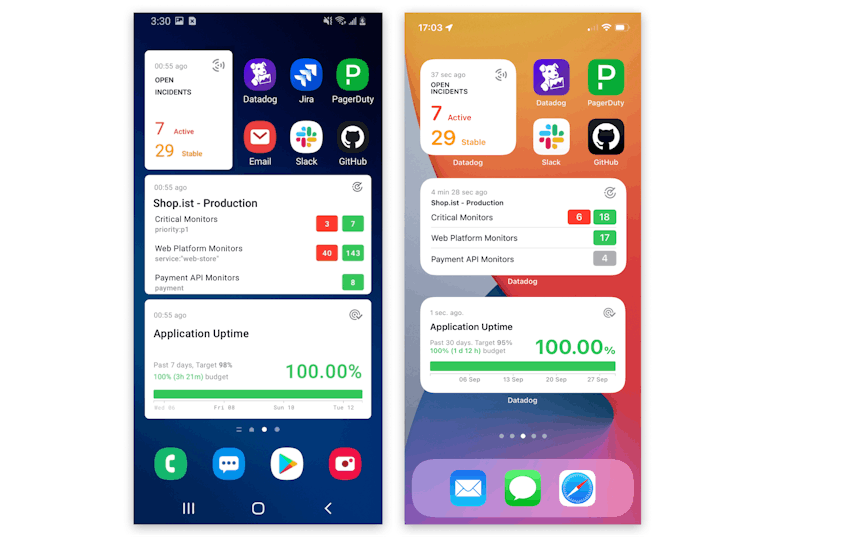 To free yourself from your laptop during your on-call hours, you need to use your phone as your primary tool. But app alerts, notifications, and incoming messages can make it difficult to focus on monitoring your services. You can enable your phone's focus mode—available on iPhone and some Android phones—to implement a task-specific configuration that lets you use your on-call dashboards and apps while temporarily silencing unrelated alerts.
The images below show the screens to configure Focus mode for iOS. The screen on the left shows how you can schedule your focus time, and the middle screen shows how you choose the collection of apps that are allowed to send you notifications during Focus time. The screen on the right shows the dashboards available to be used as a Focus mode home screen—including on-call mobile dashboards—to highlight the apps and data that are most important to you when you're on call.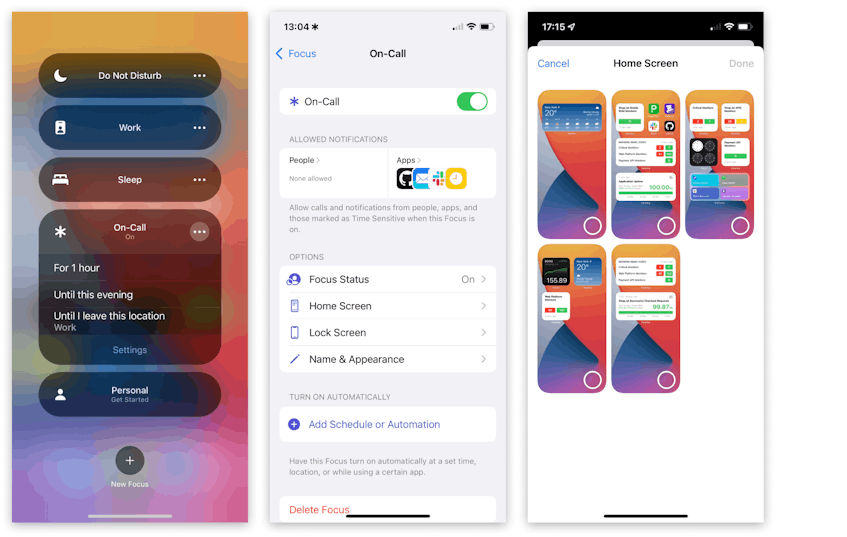 The Datadog mobile app allows you to maintain deep visibility into your infrastructure and applications wherever you are. Now, you can bring these insights directly to your home screen with mobile dashboards, which group Datadog widgets together with collaboration and communication tools. You can also leverage focus mode to help you concentrate when responding to an incident from your phone.
The mobile app is available for iOS and Android, and if you're not yet using Datadog, start today with a free 14-day trial.