New in Datadog: Organize your dashboards with lists
As your organization scales, you may find yourselves using hundreds—or even thousands—of dashboards to visualize metrics and events across every component of your infrastructure and applications. To make it easier to organize, find, and share all of your dashboards, we're excited to announce that we've revamped our Dashboards page in Datadog, and introduced a new feature: dashboard lists!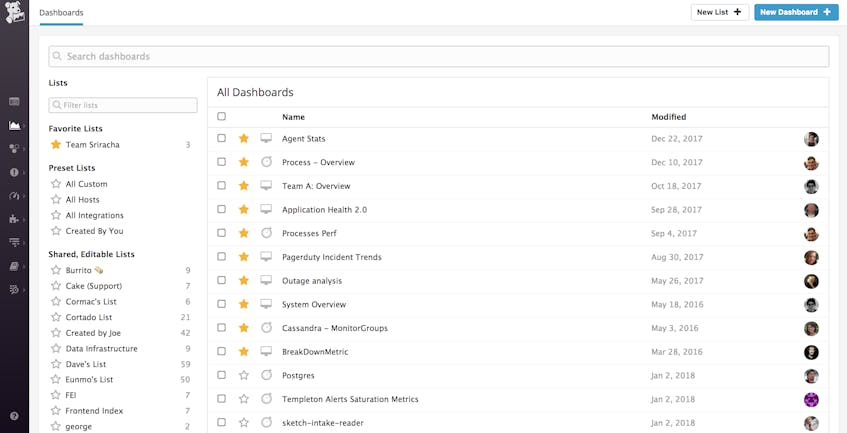 Datadog provides powerful insights into your organization's infrastructure, applications, and business metrics. Creating custom dashboards enables you to effectively visualize critical metrics in a way that's best suited to highlighting risks, troubleshooting incidents, or even just exploring trends. With our new dashboard lists feature, you can group your favorite dashboards into meaningful lists that are easy to share with other teams across your organization.
On the new Dashboards page, you'll find a few helpful lists right out of the box. View all dashboards created by you, integration-specific dashboards, host-specific dashboards, or all custom dashboards created across your organization.
To create a dashboard list, navigate to your Dashboards page, click the "New List" button, then drag and drop the dashboards that you want to include in your list. You can also customize the name of your dashboard list by clicking on the default name at the top.
Dashboards can belong to multiple lists, so users can freely create as many customized lists as they want, without interfering with anyone else's dashboard lists.
Dashboard lists don't just make it easier to find what you're looking for—they also pave the way for users to explore and utilize dashboards that they may not even have known existed. All dashboard lists are automatically shared across your entire organization, which means that users can easily explore other team members' lists. For example, Team Cholula can easily model or clone their dashboards from Team Sriracha's list and take advantage of their experience.
Dashboard lists also provide valuable context around the purpose of any given dashboard. By looking at the name of a dashboard list, you can determine if each dashboard in that list was built by a specific team, or if it's a scratch dashboard that's being used for research.
You can create as many dashboard lists as you need. For example, you can create team-based lists to ensure that all members of Team Sriracha will quickly be able to access the dashboards that matter most, when it matters most. You can also create role-based lists (e.g.,"On Call") that users can revise as needed—so you'll always know exactly where to go when it's your turn.
You can even create a list of onboarding dashboards, such as a "Getting Started" list, or a "Welcome to Widget Corp" list, to help new members of your team get up to speed with key infrastructure and business metrics.
The new Dashboards page now includes faster search capabilities. You can use free-text search to find dashboards by title or creator, or search "public" to show all screenboards that have been shared. You can even limit your search to a specific list in order to quickly find the dashboard you need.
Datadog already enables you to star your go-to dashboards for easy access. Now, you can take it a step further and star/bookmark the dashboard lists that you use most often. Whether your organization has just a handful of users on a single team, or hundreds of users across many teams, you can easily find and focus on your favorite dashboards in just a few clicks.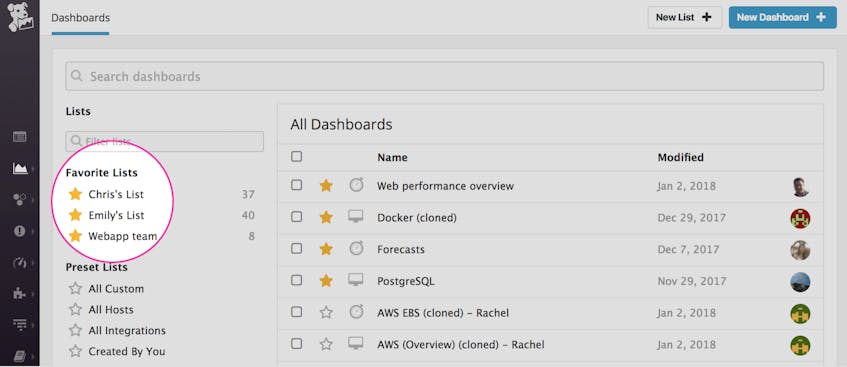 If you are already a Datadog customer, you can start creating dashboard lists on the new Dashboards page. If not, try it out now by signing up for a 14-day free trial.