Create ServiceNow tickets from Datadog alerts
ServiceNow is an IT service management platform for recording, tracking, and managing a company's enterprise-level IT processes in a single location. We're pleased to announce a new Datadog integration for a heavily used ServiceNow component: support ticketing. This integration allows you to create tickets from triggered alarms in Datadog. Additionally, you can add Datadog-generated graphs and comments to ServiceNow tickets, as well as manage the resolution workflow from within Datadog.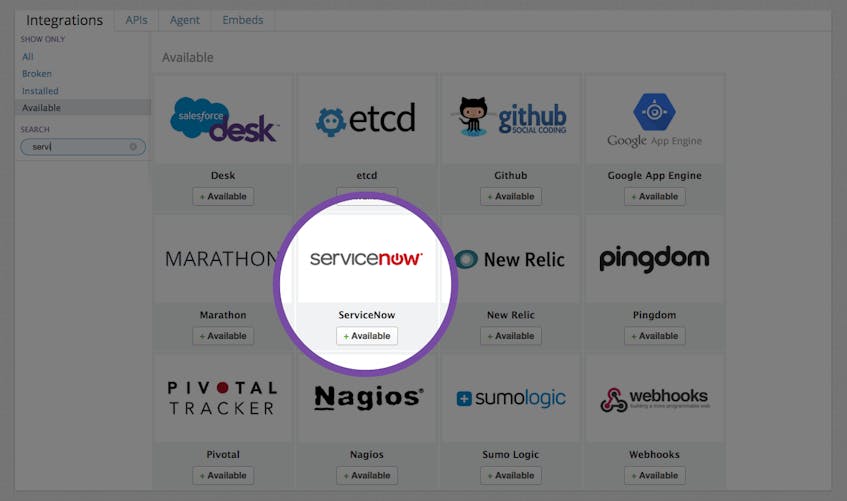 Datadog currently allows you to set up monitors and alerts for a wide range of performance metrics from our 650+ standard integrations and your custom applications. Now, you can set these alerts to automatically create support tickets and send them to the ServiceNow ticketing queue. From there, your support team will be notified of issues using the communication workflows that you have already established inside ServiceNow. All you have to do is mention @servicenow in the alert message or add @servicenow to the notification list for that monitor.
Once the monitor state returns to normal, the associated support ticket is automatically marked as "resolved".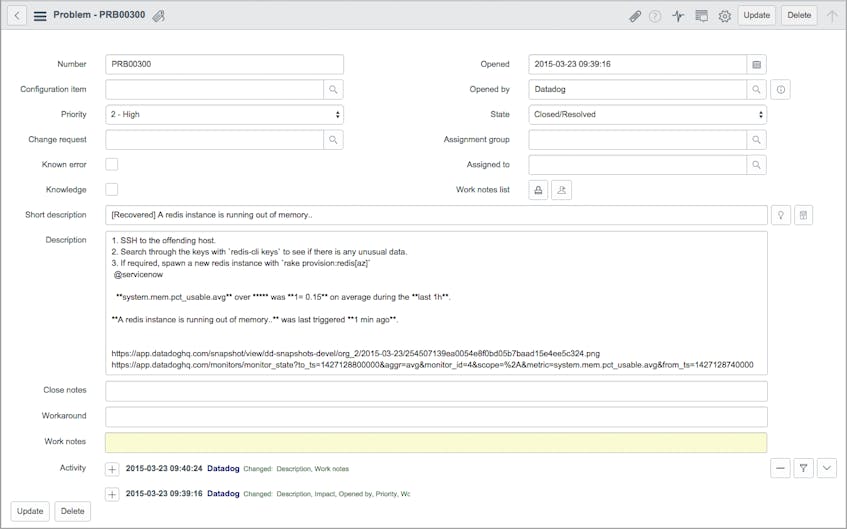 In addition to automating ticket creation and resolution, you can also use Datadog to create ServiceNow tickets on an ad hoc basis whenever you see something in Datadog that needs your team's attention. Just click the camera icon to share a snapshot of any Timeboard graph, add some context in the comment box to help your colleagues interpret the graph, and @mention ServiceNow to send the graph and your comments to ServiceNow.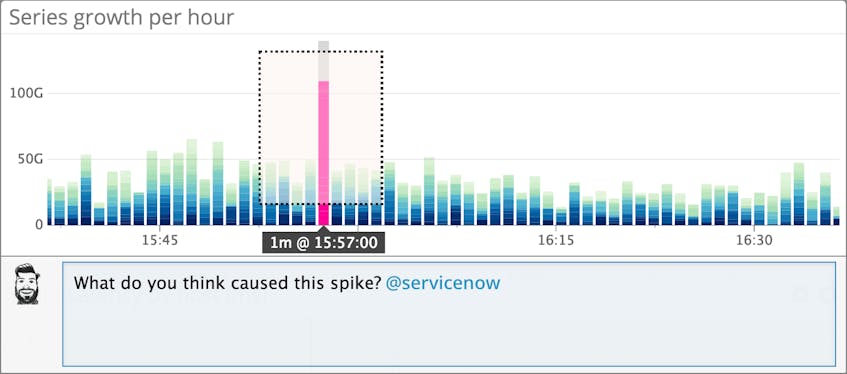 If you'd like to integrate Datadog's alerting capabilities with ServiceNow, sign up for a 14-day free trial of Datadog. If you're a Datadog customer, get started with the ServiceNow integration here.