Tell data-driven stories with Collaborative Notebooks
Whether you're deciding on follow-up items for a postmortem, submitting a request-for-comments for review, or creating an executive report, making sense of all the available data and collaborating with others to tell a clear, data-driven story can be difficult. When there are multiple stakeholders and teams working together, it can be hard to manage the back-and-forth process of feedback and revision to ensure you have up-to-date information.
Datadog Notebooks are fully integrated with the rest of the Datadog platform, letting your team access and use all of your monitoring data to create rich documents. Now, with real-time collaboration and the ability to add comments to graphs and text cells, Notebooks make it even easier for your team to seamlessly work together to build postmortems, runbooks, and other documentation. We have also integrated Notebooks into Datadog Incident Management, letting anyone on your team generate a postmortem from an incident automatically, simplifying the process of post-incident analysis.
In this post, we'll look at how:
With Datadog Incident Management, you can create and track incidents from the initial alert to resolution, all in one place. Now, you can use the information your team has gathered over the course of investigating and resolving incidents to quickly and easily generate postmortem notebooks. Once you've added key information such as root cause, timeline, impact, and remediation tasks to an incident and resolved it, you can click "Generate Postmortem" to automatically create a notebook populated with the incident's details.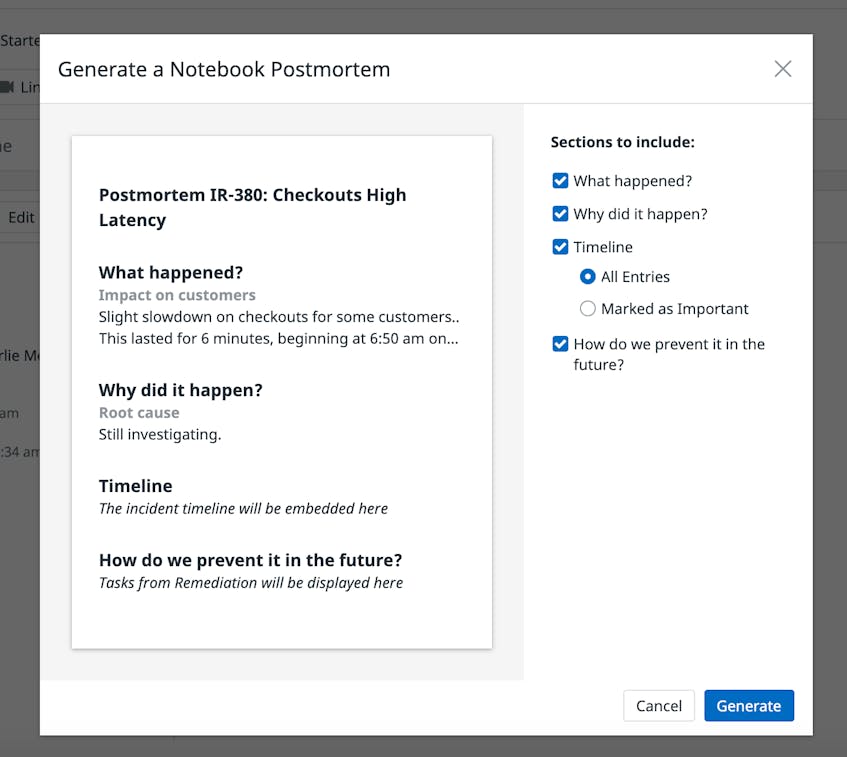 After creating the notebook, you can continue to edit and add graphs from Datadog to provide context or illustrate a sequence of events. Once you've added a graph to a notebook, you can copy and paste it throughout the document. You can scope individual graphs to different time ranges to show how your system's metrics changed during the exact window of the incident. And, with the ability to drag-and-drop to reorder cells, you can quickly organize your document as needed to adjust the incident timeline.
When putting together a postmortem, runbook, or any other document, it's key to get input and updates from all stakeholders. With Datadog Notebooks' live editing functionality, teams can work on a notebook collaboratively in real time. At the top of the page, you can see who else is viewing the document. Individual cells also indicate if someone is currently editing it. If any team member makes changes to the document, they will automatically appear for all viewers.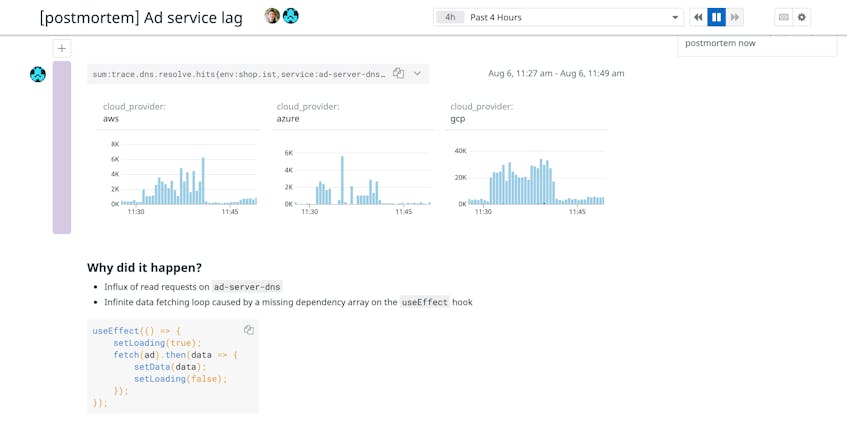 A key part of creating accurate and useful notebooks is getting information or feedback from other people. Notebooks now provide the ability to comment on individual text or graph cells, letting you annotate graphs with specific context and receive instant feedback. To add a comment, hover over a graph or select some text and click the "Add Comment" button. You can start a discussion around action items in a postmortem, or suggest which graphs might work well in a shared runbook. You can edit or delete your own comments, as well as reply to or resolve comments left by others.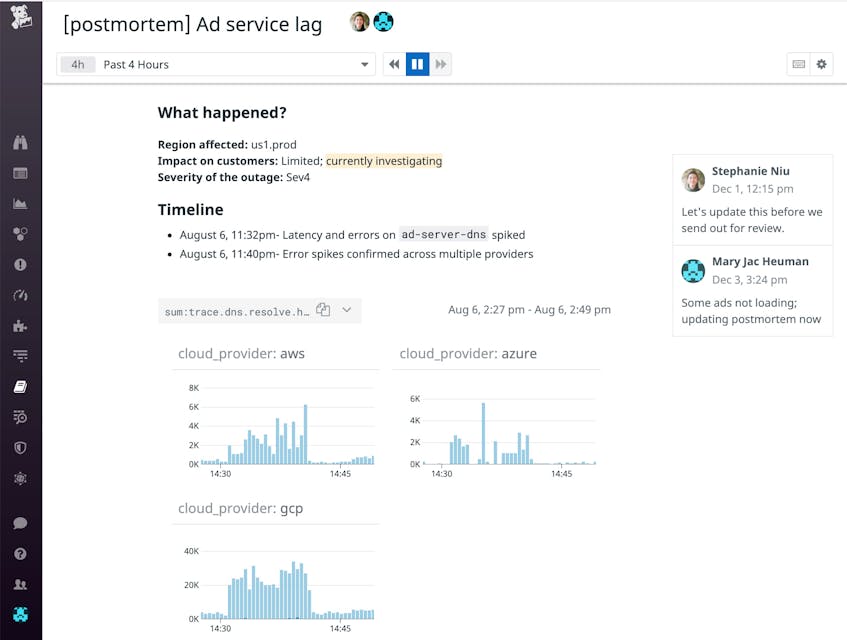 When responding to an urgent incident, it's important that everyone is up to date on the most current information. In Notebooks, leaving a comment will trigger a notification to the author of the notebook or participants in the discussion thread. You can adjust your notification settings for individual notebooks, choosing to only be notified on replies to your comments, or turn them off completely.
With new collaboration features, including real-time editing and commenting, Datadog Notebooks enable your team to seamlessly work together to create rich, data-driven postmortems, runbooks, and other team documentation. And, as part of our incident management workflow, you can easily create live documents to gather information from the same, unified platform and get to the bottom of an issue more efficiently.
Live editing and commenting are now available for all notebooks. To get started, visit our interactive welcome notebook. Or, if you're not signed up with Datadog, start your 14-day free trial.