Streamline incident management with BigPanda's offering in the Datadog Marketplace
BigPanda is an Event Correlation and Automation platform, powered by AIOps, that helps organizations detect and resolve incidents in their complex IT environments. By unifying and correlating data from monitoring, change, and topology tools, BigPanda enables teams to quickly pinpoint the root cause of issues and prevent costly outages. BigPanda also automates the sharing of real-time incident details to analytic, ticketing, notification, and chat tools, making it easier for teams to get the insights they need to remediate and resolve issues faster.
We're pleased to announce that BigPanda is now available through the Datadog Marketplace. Once you've set up a BigPanda account, you can use the BigPanda integration to automatically correlate and analyze Datadog alerts. The integration also sends context-rich events back to Datadog so you can visualize BigPanda's assessment of an incident's probable root cause alongside monitoring data from across your stack.

Once you enable the integration, BigPanda will begin ingesting Datadog alerts for all your monitoring data, such as infrastructure metrics, APM metrics, and logs. It then normalizes this alert data, along with data from other third-party tools, into a single, consistent format, and enriches it with contextual information to facilitate the correlation process. For example, BigPanda leverages Datadog's Service Map to understand the relationship between alerts from different sources across your stack.
Next, BigPanda looks for patterns in the alerts and dynamically clusters them into a small number of high-level incidents. The platform also leverages its various CI/CD integrations to analyze how changes in your environment may have contributed to these incidents, so you can quickly roll back problematic deployments without having to manually sift through lines of code.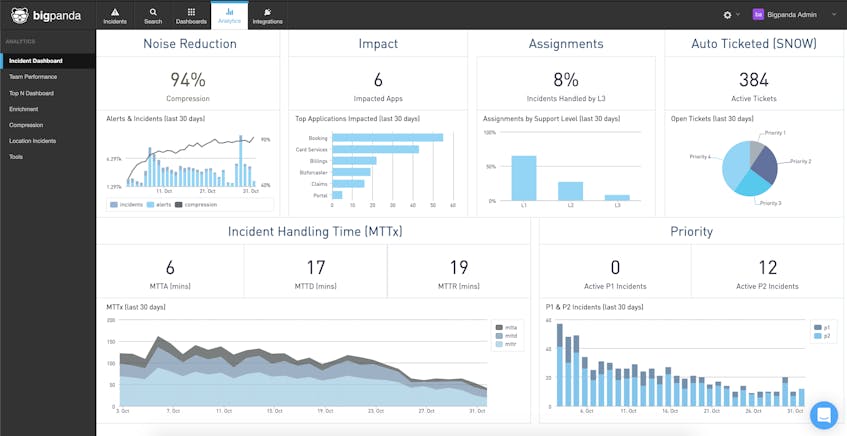 BigPanda further streamlines the incident management workflow by automating key administrative tasks during the triage phase. Once an incident is detected, BigPanda can automatically create tickets, notify the right teams, and set up war rooms. These automations help prevent prolonged downtime by allowing teams to dive right into troubleshooting and resolving the issue.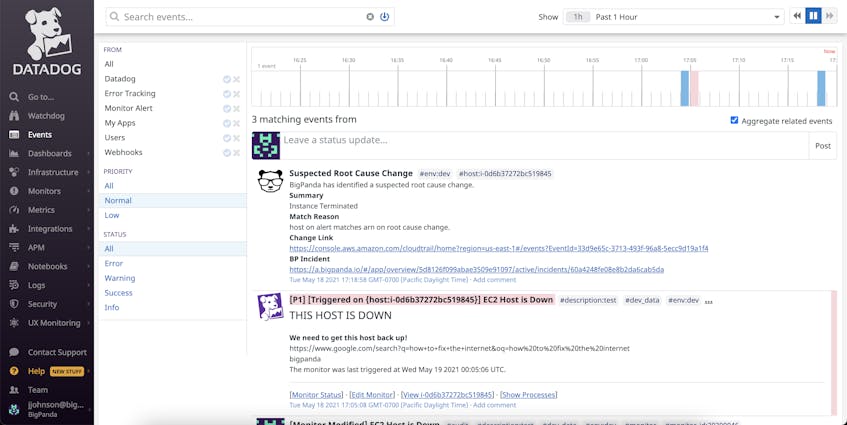 The BigPanda integration also sends events back to Datadog after an incident is discovered. You'll want to configure these events to include a description of the root cause of the incident, as well as useful links, to ensure your team has all the information they need to begin investigating. You can add these event streams to your Datadog dashboards in order to visualize BigPanda events alongside the rest of your monitoring data. This way, you'll be able to see how incidents impact your services and verify whether your fixes resolve them.
The BigPanda offering in the Datadog Marketplace and the BigPanda integration are now available to all customers. If you're not yet using Datadog, sign up for a 14-day free trial today.
The ability to promote branded monitoring tools in the Datadog Marketplace is one of the benefits of membership in the Datadog Partner Network. Interested in developing an integration or application for the Datadog Marketplace? Contact us at marketplace@datadog.com.