Avoid Azure migration cost overruns with Datadog Cloud Cost Management
Migrating your on-prem applications to Azure can help you improve scalability, reliability, and security. It can also help reduce costs and free your engineering teams to focus on innovation and performance optimization. But it can be hard to understand Azure costs as they evolve during your migration and to see how they correlate with your resource utilization once you're up and running in Azure.
The engineering teams who build out Azure infrastructure and deploy application code often can't see Azure cost data. The cost impacts of the Azure resources used are often unknown even to cloud cost owners who don't see costs until the end of a monthly billing cycle. Cloud cost owners' visibility is also often limited to individual Azure accounts, making it difficult to see overall Azure costs and trends.
Gaps and delays in cost visibility make it hard for service owners, engineering teams, cloud cost owners, and engineering leaders to understand what's driving cloud costs, which can leave them unable to justify the cost of migrating. In this post, we'll explore how Datadog Cloud Cost Management for Azure helps stakeholders throughout your organization track granular costs across multiple Azure billing accounts so that they can understand changes and prevent cost overruns during your migration. And we'll show you how Cloud Cost Management provides side-by-side cost and observability data to help engineering teams understand and optimize ongoing Azure costs. Finally, we'll show you how Cloud Cost Management helps you keep stakeholders informed about cloud costs to ensure accountability and prevent budget creep.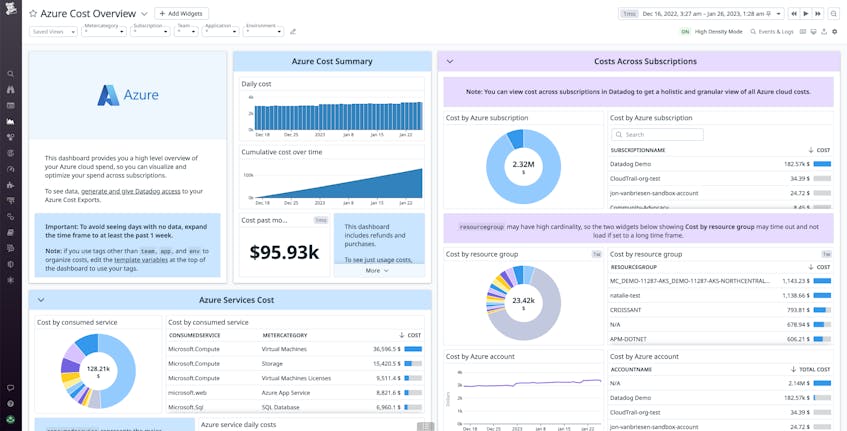 Azure's cost analysis tools allow you to explore cost data within the scope of a single Azure billing account, but it can be difficult to see costs across multiple billing accounts. Datadog Cloud Cost Management for Azure surfaces cost data from all of your billing accounts and subscriptions to give cloud cost owners a broad view of your organization's Azure spend.
Cloud Cost Management helps you understand costs at a granular level, too, allowing you to group Azure cost data by meaningful dimensions like product, team, and resource. Even if teams operate services that span multiple Azure subscriptions, cost owners can aggregate data to understand teams' day-to-day costs and long-term trends—and explore each team's cost data to see what's driving changes in any given service's costs.
For example, if a cost owner spots an unexpected increase in a team's Azure Storage costs, they can identify which storage service is behind the increase. In the screenshot below, Azure costs are grouped by product—such as Virtual Machines, Storage, and Azure App Service—and the side panel shows detailed storage costs for the checkout_team. The Cloud Cost Spend Summary graph shows a steady increase over the last five months, including an anomalous cost increase in January. To identify the root cause for this increase, cost owners and engineers can map this cost data to observability data.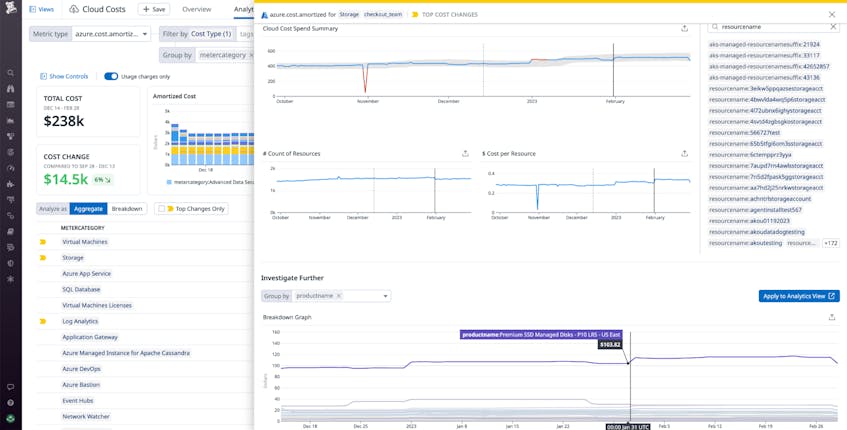 Cloud Cost Management can help your organization understand and mitigate cost overruns, and spot opportunities to adopt Azure savings plans to reduce costs. If your organization is also running services in AWS, cost owners can use Datadog Cloud Cost Management for AWS to see data from both clouds in a single platform.
Tracking cost data from across your accounts gives you comprehensive visibility into your Azure spending. However, to fully understand your spend, it's also important to monitor costs in full context of performance and usage data. Cloud Cost Management unifies cost data and observability data so that teams can determine whether their Azure usage is cost-efficient or whether they have opportunities to optimize their usage and reduce costs.
Service owners can add high-level Azure cost data to their service dashboards alongside performance and usage metrics to understand the cost of their service during and after a migration. For service teams tracking key performance indicators (KPIs) such as cost per order, this visibility can help them determine how to prioritize cost optimization work alongside feature development and bug fixes. For example, a service owner who's aware that Azure Virtual Machine costs are increasing can work with engineers to explore and remediate the source of rising costs. In the screenshot below, the Infrastructure Performance section of the web-store service dashboard shows one month of cost and usage data from different VM host types. D2 v2/DS2 v2 instances use less than 5 percent of their CPU and memory, but their cost is still substantial—over $306,000. This visualization can help teams identify Azure resources that could be optimized to achieve cost savings.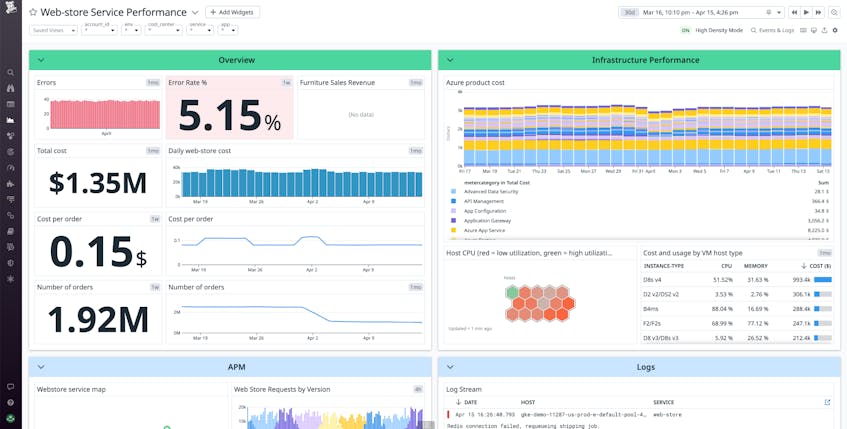 Engineering teams can leverage the out-of-the-box Azure VM Overview dashboard to dig deeper into the observability data, for example, to see resource utilization by region and to easily spot the VM hosts with the lowest utilization. They can create a Notebook to share this information with the service owner and collaborate to determine whether the service's VM cost is justified. For example, if the service owner expects an increase in utilization, the VM cost may be warranted even though utilization is currently low. Otherwise, engineers can optimize by shifting the workload to smaller instances or reconfiguring the service's autoscaling to run fewer instances.
If you're using Datadog APM, the Service Catalog provides centralized knowledge of your organization's services. Cloud cost owners can find service ownership information and easily reach out to service owners to understand cost increases. Stakeholders can track performance data on service dashboards and easily pivot to the APM Service Page—shown in the screenshot below—to see Error Tracking data, SLO status, security signals, and a performance overview of each endpoint within the service.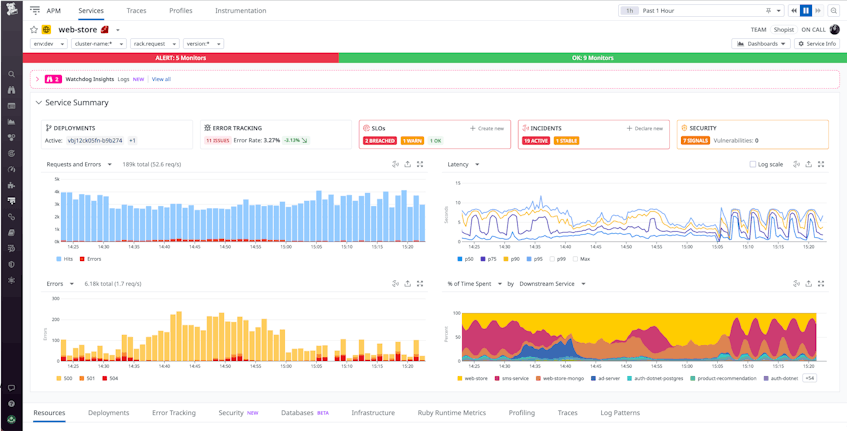 Cloud Cost Management brings self-serve Azure cost and observability data to Datadog—where engineers are already monitoring service health and performance—so that they can see how their services' usage of Azure products drives their costs. This understanding helps service teams take a direct role in owning those costs by continually seeking opportunities to improve their services' cost effectiveness.
Cloud Cost Management's automated cost reporting helps keep leadership informed about costs of migrations in progress and services running in Azure. In the screenshot below, a cloud cost owner has scheduled a report to automatically email a snapshot of the Shopist Cost Overview dashboard to the organization's CIO on the first day of every month.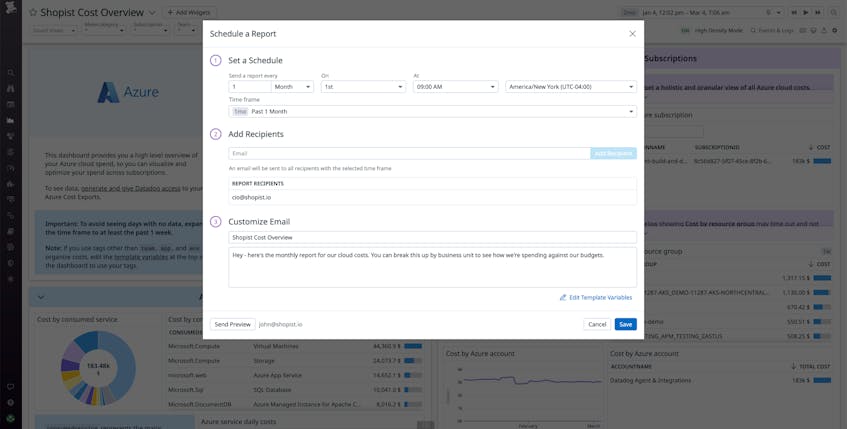 Reports like this help cloud cost owners maintain accountability and prevent surprises by ensuring that Azure costs are visible to the organization. The email report includes a link to the dashboard so that engineering leadership can review up-to-date Azure migration costs in Datadog and ensure that actual costs align with expectations.
Datadog Cloud Cost Management for Azure provides organization-wide visibility into your Azure spend across all your billing accounts and subscriptions. This capability lets cloud cost owners, service owners, and engineering teams take shared ownership of cloud costs and collaborate to optimize the cost effectiveness of services in Azure. See the documentation for more information, and sign up for our webinar to learn how to control your costs as you successfully complete your migration to Azure. If you're not already using Datadog, you can get started with a free 14-day trial.