Reduce IT Costs
Reduce tool sprawl and eliminate compounding investment, licensing, and maintenance costs with one unified monitoring solution (rather than having 9+ siloed observability tools)
Get greater visibility and control over data ingestion and management, so your teams can more accurately monitor overall usage and costs
Make informed decisions on how you allocate spending and ensure teams stay within budget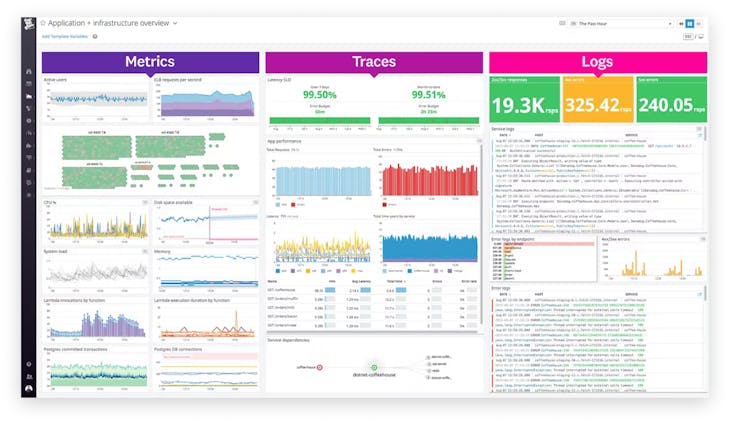 Receive Alerts for Only the Issues that Matter and Troubleshoot Faster
Automatically detect unanticipated outliers, anomalies, and errors with Watchdog
Eliminate false-positives with composite alerts, based on boolean logic, and smarter anomaly + outlier alerts that account for daily, weekly, and seasonal fluctuations
Receive only specific, actionable, and contextual alerts—even in large-scale and highly ephemeral environments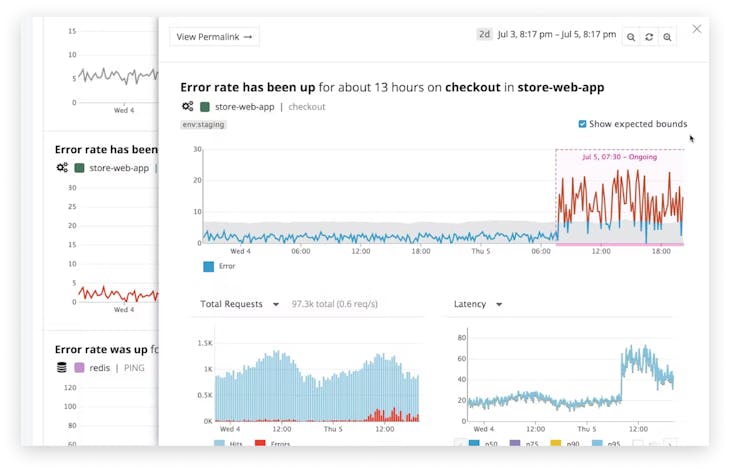 Improve UX and Easily Optimize Performance
Collect 100% of your user sessions and understand user experience across applications with critical performance data
Monitor key user journeys with an easy-to-use, code-free web recorder—no scripting required, just click through your application as a user would; save engineering resources with AI-powered, self-maintaining tests
Pinpoint the root cause of slow load times, whether it's an issue with the code, the network, or the infrastructure with end-to-end visibility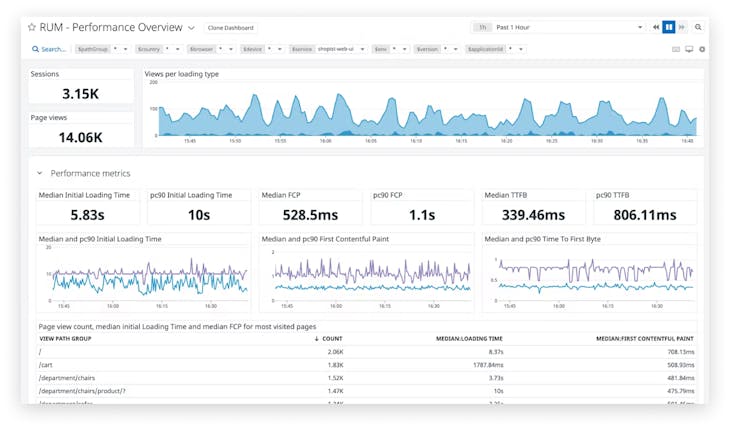 Accelerate Time to Market
Automatically catch issues before they escalate; detect critical issues in your pipelines before they even go into production with CI/CD testing
Increase visibility into deployments and easily evaluate the state of production after individual deployments to identify regressions and automate rollbacks
Rapidly identify bottlenecks, errors, heavy traffic issues, slow-running queries, and more
Push new releases to market faster; monitor new code at every stage of the development cycle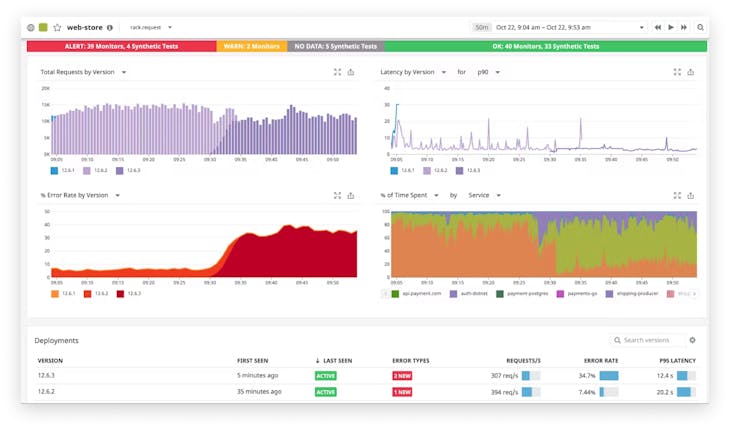 Reduce Security Risks
Get unprecedented visibility into application attack flows with Application Security Management (ASM)
Unified view of your most mission critical threats and misconfiguration to your production infrastructure with Datadog Cloud Security Management
Find, prioritize, and mitigate the most critical threats before they compromise your environment with a low maintenance, cost-effective cloud SIEM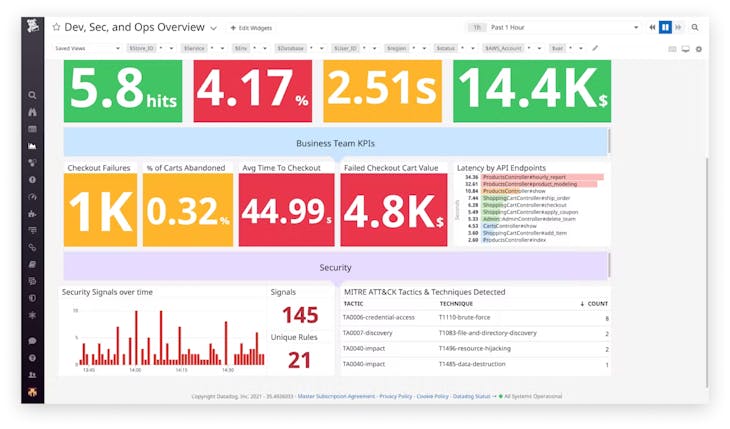 Customer Story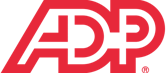 Lifion by ADP previously leveraged multiple monitoring tools for alerting, tracing, and more, totalling $2.1 million in annual maintenance costs. With Datadog, ADP was able to consolidate their monitoring solutions and reduce time spent managing disparate tools. These changes resulted in a net savings of $647,000 annually, representing a 30% decrease in their overall IT costs.
30%
Decrease in overall IT costs
Customer Story
wayfair
In 2019, Wayfair noticed many of their core pages had become slower. Their ability to identify small-scale performance regressions was limited and grew into more serious problems over time. With Datadog APM, Wayfair was able to track the performance of their individual services, create SLOs for long-term regression monitoring, and meet their performance improvement goals. Additionally, Wayfair identified misconfigured services that were generating long timeouts, leading to a 5 to 10% decrease in customer checkouts. As a result, Wayfair achieved a 20% reduction in load times and saved their customers 600 days of wait times.
20%
Reduction in load times
600
Days of wait time saved
Customer Story


Using Datadog, Delivery Hero built a comprehensive and automated threat detection process to systematically identify and block malicious IPs with minimal setup and maintenance overhead. Their security team eliminated their month-long detection delay and uncovered 37,000 fraudulent users in their application.
37,000
Fraudulent users uncovered in their application