Fast, Faster, Fastly: Monitor your Fastly performance metrics
You use Fastly because you want to serve your content as quickly and reliably as possible. But how well are you actually doing? While Fastly provides great Fastly services dashboards, is another part of your environment slowing you down? With our new Fastly integration, you now have the ability to monitor Fastly performance metrics and correlate them with your other sources of data in Datadog.
With Datadog's integration with Fastly you can monitor key metrics, such as hit ratios, cache coverage, header size, error percentage, HTTP client and server errors, and many more. All Fastly metrics are auto-tagged by service, allowing you to view metrics in aggregate or slice and dice them across your Fastly services.
If there's an issue, Datadog offers an easy jump-start to troubleshooting with a side-by-side view of metrics and events. View events on the same timescale as metrics for easy correlation between them.
This is an example comparing Fastly traffic (purple) with "origin" NGNIX traffic (blue) on the same graph showing how Fastly picks up a nice portion of traffic. The pink vertical markers denote code deployments.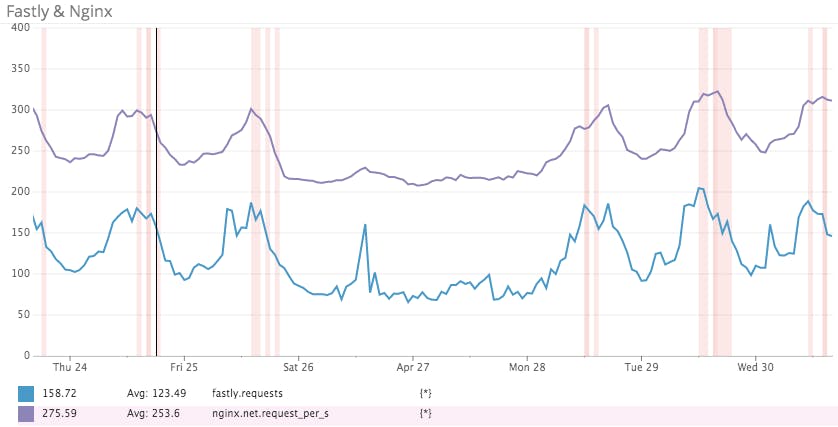 What if you want to be alerted when the hit ratio for one of your Fastly services drops below 90%? You can set up alerts on any Fastly performance metric to be notified when a given metric crosses a user-defined threshold or grows faster than x%. Datadog delivers alerts to team members via email, HipChat, PagerDuty or webhooks.
Here's an example of an alert set up on a Fastly service delivered directly to HipChat.

Reporting has never been simpler. Show off your performance using Fastly by sharing timeboards or screenboards, like the one below, with colleagues, managers or anyone at all via a web link.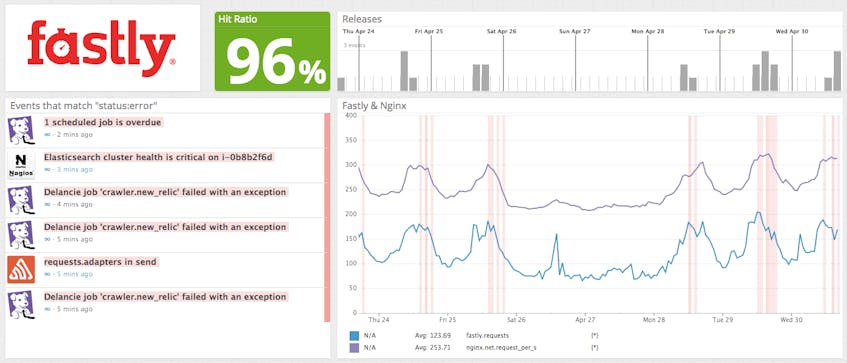 To gain this visibility into all of your key Fastly performance metrics and correlate them with your other Datadog data sources, you can try Datadog for free for 14 days.