Today we're proud to announce that Datadog is officially re-branding as Datadoge.
The decision came after much thought on the future of the company brand as well as the suggestions of many twitter followers using the hashtag
#Datadoge
.
As a driving force in the cloud monitoring world, we want our brand to speak for itself and give people a sense of who Datadoge is as a company. A small, agile dog that copes well with mountainous terrain, the Shiba Inu was originally bred for hunting. Choosing the Shiba-Inu dog breed as the heritage of our lovable and hardworking mascot "Bits the Dog" came as a no-brainer. With the simple install of our agent in your system you can have Datadoge on the hunt for issues and monitoring the mountainous terrain that is your company's cloud stack.
We are also switching our official font from open sans to the more sophisticated font we have all grown to love: Comic Sans. The clever way doge-speak communicates what we do as a company into such concise and comprehensive 2 word phrases expertly expresses our company's vision as a leading cloud monitoring and alerting enterprise.
Below you can see an example of the new website refresh that has been painstakingly designed by our team here at the Datadoge office.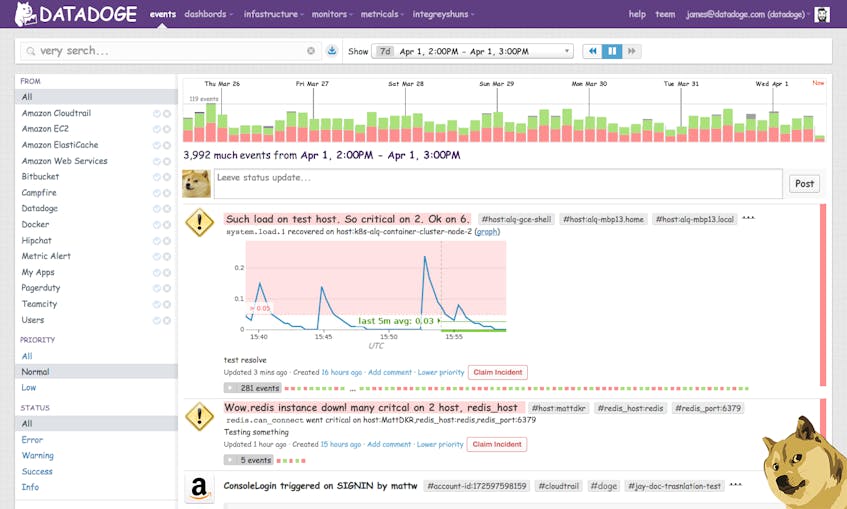 If you already have a Datadoge account, the site-wide update will roll out to our users next week. And if you aren't using Datadoge yet, you can try it for free for 14 days. Such deal.